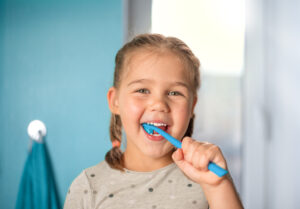 In addition to seeing our team every six months for a checkup and cleaning, you need to help your children protect smiles at home. Which is why we're going to highlight some positive dental habits! In today's blog, your Dallas, TX, pediatric dentist talks about good oral health habits for kids of all ages.
Start Care Early!
Often, parents don't realize that teeth need to be cleaned as soon as they erupt. For the first teeth, you can clean them and the gums with a clean piece of cloth. As more teeth arrive you can move on to an infant's toothbrush and eventually a toddler option. Toothpaste shouldn't be used until your little one can't swallow it. Kids three and younger typically need a rice sized amount of fluoride toothpaste, while kids over the age of three require a pea sized amount. Fluoride helps strengthen enamel to fight tooth decay, but don't go overboard, because too much of a good thing when it comes to fluoride could lead to stains. This is referred to as fluorosis.
Daily Brushing and Flossing
Just like you, your children need to brush and floss daily. They should brush in the morning and then again at night, and floss every evening too. In the early years, you'll do this for your child. But as they grow older, let them take control of the process. To ensure they clean their teeth for the recommended two minutes each time, you can play a fun song or video to time them. Daily care is crucial for optimal oral health!
Lead by Example
Make sure your children see you brush and floss too, so they know this is important. Often, parents brush and floss alongside their kids so they can see how long they should take and how to properly maintain healthy and strong smiles. You can also lead by example by eating healthy snacks and meals, and avoiding too much candy, chips, or soda. Good hygiene combined with a healthy diet can help smiles of all ages in your household remain free of cavities and periodontal disease.
If you have any questions about how to care for little smiles, then contact our team today to learn more. We want to help smiles in children stay strong, health, and beautiful.
Talk to Your Allen, TX Dentist About Children's Dentistry
Our team is here to help your children maintain strong and shining smiles. If you want to know more about helping your kids enjoy good oral health, or if you are ready to book an appointment, contact your Allen, TX, dentist, Dr. Torrens-Parker, by calling 469-342-6644. We want to make sure you and your family have the knowledge and skills to keep your smile healthy and strong for years to come!