Tooth-Colored Dental Fillings
Fillings are among the most common restorative dental prodedure and are designed to treat a frequent dental health issue – tooth decay. Also referred to as dental caries, decay is the reason why cavities, or holes, form in teeth. A filling works by literally filling the cavity after your dentist has cleaned away the oral bacteria causing the tooth infection.
In the past, metal amalgam was the standard tooth filling, and today, many people still retain metal fillings that were placed long ago. However, at Allen Family Dental, we believe in providing the safest, most reliable, and most biocompatible materials, and choose instead to utilize composite resin and ceramic tooth-colored fillings.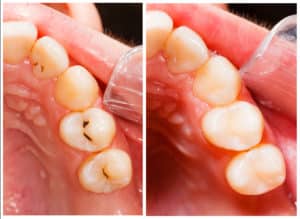 Restore and Improve Your Smile with a Tooth-Colored Filling
With a tooth-colored filling, you can restore and improve a cavity-stricken tooth without relying on metal amalgam. To learn more about the benefits, call Allen Family Dental today at (469) 342-6644. Located in Allen, TX, we also serve patients who live nearby in Frisco, Plano, McKinney, Fairview, and all surrounding communities.