Removable Complete Dentures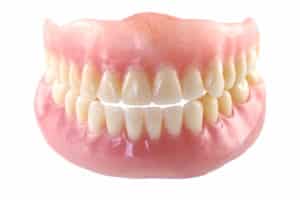 Dentures have long been a part of prosthodontic dentistry and have helped countless patients who have suffered severe tooth loss regain their confident, beautiful smiles. Dentures are recommended for patients who have lost all of their teeth on the upper and/or lower dental ridges, and consist of a complete row of lifelike replacement teeth.
The teeth of a denture are arranged on a comfortable, gum-colored plastic base that adheres snugly to your dental ridge. In the case of upper dentures, the suction created by the shape of the roof of your mouth helps ensure further stability. If necessary, your dentist may also recommend a safe but highly-effective dental adhesive to make sure your denture remains sturdily in place.
Enjoy the Beneifts of a Lifelike Complete Denture
Losing an entire row of teeth can be devastating, but you can successfully recover with a custom-designed complete denture. To schedule a consultation about rebuilding your smile, call Allen Family Dental today at (469) 342-6644. Located in Allen, TX, we also serve patients who live nearby in Frisco, Plano, McKinney, Fairview, and all surrounding communities.