Removable Partial Dentures
There is no one-size-fits-all dental treatment, and given the uniqueness of your teeth, that is especially true when it comes to replacing them. Every tooth replacement procedure is tailored to your specific needs.
A partial denture is recommended when you're missing several permanent teeth but still have healthy ones. Your prosthetic teeth are attached to a removable appliance. It is important to fill in your missing permanent teeth in order to maintain proper tooth alignment. Otherwise, your teeth will shift and could create further dental problems, including TMJ disorder or periodontal disease.
There are some cases where, instead of getting a partial denture, you may be a candidate for dental implants or a dental bridge. We can evaluate your case and help you determine the best solution for your needs.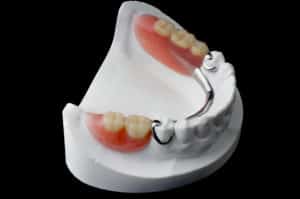 Receive a Custom-Made Partial Denture
A partial denture is customized to fit your unique pattern and severity of tooth loss, rebuilding your smile while supporting the healthy teeth that remain. To receive a custom partial, schedule a visit with your dentist by calling Allen Family Dental today at (469) 342-6644. Located in Allen, TX, we also serve patients who live nearby in Frisco, Plano, McKinney, Fairview, and all surrounding communities.