Highly-Lifelike Dental Implants
Tooth loss can have a dramatic impact on your appearance, your dental health, and your overall quality of life. With one or more teeth missing, you may have difficulty biting and chewing, or enunciating your words clearly. Also, the risk of tooth decay, misalignment, and more increases for the teeth that remain.
With a Master' Degree in Prosthodontics, Dr. Torrens-Parker has extensive experience restoring patients' smiles with dental implants. Whether you've lost just one tooth, several teeth, or all of your teeth on your upper and/or lower dental ridges, then you may benefit from advanced implant dentistry.
The Benefits of Dental Implants
The stability, comfort, and esthetic benefits of dental implants far surpass those of more conventional options. Some of the many advantages of dental implants include:
Dental implant posts rarely need to be replaced, and the crown, bridge, or denture that they support can last more than 15 years with proper care at home and at your dentist's office.
Patients with dental implants report a significantly more natural and lifelike feel when biting, chewing, and speaking.
Implants not only replace lost teeth, they also help preserve the jawbone and oral structures surrounding them by replacing lost teeth roots.
Implants offer unmatched stability to your replacement teeth, and unlike traditional dentures, they will not become loose and shift around over time.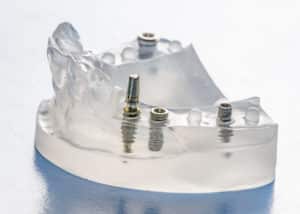 Dental implants are designed to replace the roots of your lost teeth and offer several benefits that are important to your overall oral health. Made from biocompatible titanium, dental implants become a part of your oral anatomy as your jawbone heals around and fuses to the titanium posts. Implants can be utilized to support a single dental crown, a larger bridge, or a complete denture, depending on your needs.
By combining your prosthesis with dental implants, you can enjoy a renewed smile that looks, feels, and functions just like your healthy, natural teeth.
If you are a candidate to receive an implant, then your dentist will refer you to a trusted oral health specialist to surgically place the implant posts. After healing time has completed, Dr Torrens-Parker or Dr Lizardi will complete the dental implant process by fabricating the final prosthesis.
Implant-Supported Crowns and Bridges
To replace a single lost tooth, your dentist can suggest supporting a lifelike dental crown on a single dental implant. For several lost teeth, you might benefit from a larger dental bridge supported on one or more dental implants. Your dentist will take highly-detailed images and precise measurements of your mouth and dental ridges, then send the details to a trusted laboratory, where a skilled technician will custom-craft your prosthesis.
After your implant post or posts are placed and your jawbone has completely healed, Dr. Torrens-Parker or Dr. Linardi can then secure your dental crown or bridge to the implants in our office.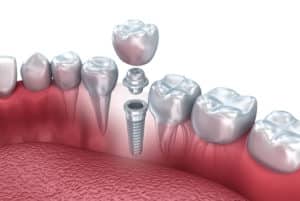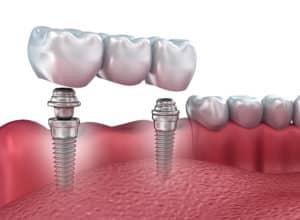 Implant-Supported Denture
When a denture is first created, it is designed to fit comfortably and snugly on your dental ridge. However, when teeth are lost or extracted, your body registers the absence of your teeth's roots, and the surrounding jawbone is resorbed. Over time, jawbone resorption will change the shape of your dental ridge, and your denture will gradually become loose.
As the years pass, a shrinking jawbone will result in a condition known as facial collapse, and your jawbone can lose enough density that it can no longer support your denture. By contrast, dental implants can reestablish stimulation in your jawbone to prevent resorption, offering better support for your denture as well as long-term benefits to your overall dental health and quality of life.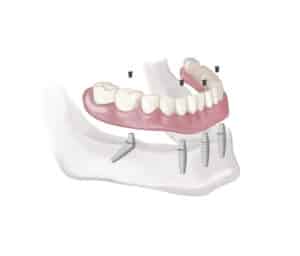 See If You Qualify for Dental Implants
Dental implant-supported restorations can revolutionize your tooth replacement by providing the same supportive benefits as healthy, natural teeth roots. To find out if you qualify for dental implants, schedule a visit with your dentist by calling Allen Family Dental today at (469) 342-6644. Located in Allen, TX, we also serve patients who live nearby in Frisco, Plano, McKinney, Fairview, and all surrounding communities.