Fixed Dental Bridges
Replacing a lost tooth offers several benefits, not the least of which is a returned sense of confidence in your smile, but there is also a medical reason for replacing your missing teeth. The open space left after the tooth extraction can cause the remaining teeth to drift. By restoring your bite, the bridge also allows you to properly chew your food and protects the adjacent teeth from damage.
For many patients, Dr. Torrens-Parker and Dr. Lizardi may recommend replacing lost teeth with dental bridges. The fixed appliances are crafted from lifelike materials, such as porcelain or zirconia, to closely mimic the lost tooth. The replacement tooth, or pontic, is secured in place by equally-lifelike supportive dental crowns.
The supporting crowns on either side of the pontics are bonded to the remaining teeth nearby, creating a sturdy tooth replacement that won't slip or shift.
What You Can Expect
Before placing a dental bridge, your dentist will carefully examine your dental health to ensure that tooth decay, gum disease, or other issues are not present. If your teeth and gums are healthy, then your dentist will prepare for the procedure by taking precise measurements of your teeth, the empty space in your smile, and your surrounding oral structures. The measurements and images will be used to custom-craft your dental bridge.
Preparing for bridge placement requires slightly modifying the adjacent teeth, referred to as abutment teeth, to support the crowns at either end of the bridge. Once the crowns are attached to the abutment teeth, the bridge's pontic will rest securely and comfortably in the empty space in your smile.
For some patients, a bridge may be supported by a dental implant post, which is inserted into the jawbone to hold the replacement teeth in place. With the help of one or more implant posts, a dental bridge can replace your lost tooth/teeth without relying on nearby abutment teeth for support.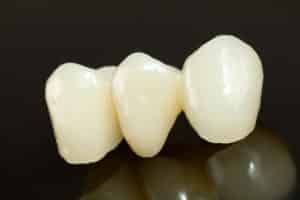 Find Out if a Bridge Is Right for You
A dental bridge can help you recover from tooth loss and once again smile with confidence. To find out if a fixed bridge is your optimal solution, call Allen Family Dental today at (469) 342-6644. Located in Allen, TX, we also serve patients who live nearby in Frisco, Plano, McKinney, Fairview, and all surrounding communities.