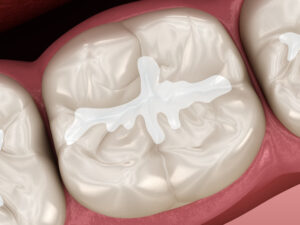 Our team offers checkups and cleanings for children to protect their smiles. But we also have unique preventive treatments to help lower the risk of cavities. In today's blog, your Allen, TX, dentist talks about how we can use dental sealants to safeguard smiles against tooth decay for years to come.
Children and Tooth Decay
Kids are especially susceptible to tooth decay, as they not only have a sweet tooth, but often have trouble thoroughly brushing and flossing themselves. Lack of proper brushing and flossing could allow food and drink particles to remain on or between teeth, broken down by bacteria to create plaque and tartar. The subsequent buildup then weakens and erodes the outer enamel to cause tooth decay. Soon, the teeth can feel sensitive when they eat and drink, and a painful ache can develop that doesn't pass. Treatment is then necessary to prevent infection and a host of other complications. However, we can help safeguard their smiles.
Dental Sealants
Dental sealants are a thin plastic layer we apply to the molars, the rear teeth that are often difficult for kids to reach when they brush and floss, especially if they have limited dexterity. We dry the teeth and apply the layer, and then cure it with a light. The entire process only takes a few minutes, but the sealants can stay in place for up to ten years in some cases! They wear away gradually with time, but tend to cling to the more sensitive portions of the tooth structure the longest, providing years of protection and a lowered risk of tooth decay. If we do discover a cavity, we can treat it with a dental filling that looks natural and lasts for years to come.
Fluoride
Our team can also apply another preventive treatment during each checkup and cleaning visit. Applying a typical fluoride gel allows a naturally occurring mineral to strengthen the outer enamel, which lowers the risk of cavities. When they brush, they should also use a fluoride toothpaste, a rice sized amount for kids under the age of three, a pea sized amount for kids three and older. There is also fluoride in tap water, which can lower cavity rates in all ages.
If you have any questions about how we prevent cavities or treat them, then contact our team today to learn more, or to schedule your next checkup and cleaning visit.
Talk to Your Allen, TX Dentist About Protecting Little Smiles
We want to help teeth stay strong and decay-free for years to come. If you want to know more about preventing cavities in little smiles, or if you are ready to book an appointment, contact your Allen, TX, dentist, Dr. Torrens-Parker, by calling 469-342-6644.