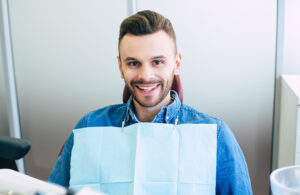 Do you have a child ready for his or her first visit, or are you seeing our team for the first time? We want to make sure every visit is a comfortable and relaxing one. In today's blog, your Allen, TX, dentist talks about how to prepare for your first visit, and what to expect from this appointment.
Your Initial Visit
When you arrive, you should bring with you contact information from your previous dentist, so we can obtain your dental records. You also need your insurance card, a list of your medications you're currently taking (including over-the-counter medications or herbal supplements). You can complete your new patient forms ahead of time online, or in the waiting room before your appointment. We would also like to know about any medical conditions. During your first visit, we'll talk to you about your oral hygiene habits, your goals for your smile, and we will thoroughly examine your teeth and gums for signs of trouble. If treatment is necessary, we will schedule a future visit to address any concerns we've uncovered.
Your Child's First Visit
All patients under the age of 18 should be accompanied by their parents or legal guardian. Our team has experience working with children, and we know how to help them feel at ease and comfortable. After all, positive experiences could make them more likely to continue seeing the dentist as a result, and helps instill good oral health habits too. Again, we will examine the smile to assess the current state of their smile, and provide any treatment necessary to address common factors like tooth decay.
Checkups and Cleanings
After your first visit, we will schedule a second one six months out (unless you need treatment for a cavity or periodontal issue). People benefit from seeing the dentist every six months, as this can mean a chance to treat issues before they develop into problems that threaten the smile, such as infected teeth or gum disease. Our team will also clean the teeth, which removes all plaque and tartar from the teeth to limit the risk of poor oral health. If you have any questions about our preventive visits, or if you would like to schedule one for you or a member of your family, then contact our team today to learn more.
Talk to Your Allen, TX Dentist About Preventive Dentistry
Our team wants to make sure you and your family enjoy good oral health with preventive care. If you want to know more about how to get ready for your first appointment, or if you are ready to book an appointment, contact your Allen, TX, dentist, Dr. Torrens-Parker, by calling 469-342-6644. Don't live with unsightly gaps in your smile, talk to our team.