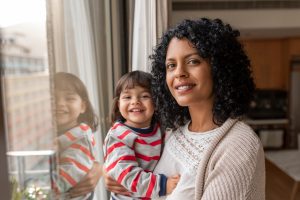 It can be hard to accept that your little one is growing up. It may not be fun to think about their aging, but it is important to pay attention to their development, particularly if you want to make sure you are keeping pace with medical milestones. Around the time when your child turns two years old, you should make plans for them to see a dentist. At our Allen, TX dental office, we are ready to welcome your kid for their first appointment, and we can go out of our way to make sure they feel at ease with us. After that first visit, we can begin providing important pediatric dental services to ensure their teeth stay healthy over the years!
We Can Make Your Child Feel Welcome And Safe During Their First Visit
We have a special goal in mind during a child's first visit, something we often call a Happy Visit. This introduction to the dentist's office is not a traditional pediatric checkup. When they come in, we want to help them feel at ease in their new surroundings, and feel comfortable with the people on staff they will meet. While we believe in giving every patient a great first experience, we understand that it can be especially important to make small children feel safe in a new space.
Regular Pediatric Visits Can Help Kids Keep Their Teeth Healthy
After that initial appointment, we can begin seeing your child and providing professional dental care. Regular pediatric appointments, like dental examinations for adult patients, help us identify any oral health threats that should be addressed. We also use these visits as opportunities to carefully clean their teeth, and monitor their changing oral structures as they grow.
Taking Care Of Your Child's Smile Between Checkups
Regular dental appointments provide patients of all ages with great cavity protection. Once they are old enough, we can even apply sealants to your child's teeth to give them more support against decay. In between visits, you can help your kids keep their teeth healthy by providing support and encouragement, particularly when they first start to brush and floss on their own. It is also important that you pay attention to their diet, and limit how much sugar they consume. We can always offer guidance during your child's appointments if you have any questions or concerns.
Schedule Your Child's First Dental Visit At Allen Family Dental
At Allen Family Dental, patients of all ages have access to great oral health care! We can welcome a young child during their first visit, and make sure kids enjoy quality care as they age. We are also ready to take care of parents, so you can schedule your own checkups when you bring in the kids. To schedule a consultation with Dr. Torrens-Parker or Dr. Lizardi, call Allen Family Dental in Allen, TX, today at (469) 342-6644.