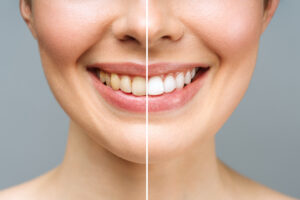 When you have stained teeth, you may be tempted to try store bought strips or a whitening toothpaste. But for dramatic and truly long-lasting results, you should consider our custom options. In today's blog, your Allen, TX, dentist talks about our at-home teeth whitening trays.
The Causes of Your Discoloration
First, let's talk about teeth stains and how they develop. When we don't take proper care of our smiles, this will coat the teeth in plaque buildup, a layer that weakens and erodes the outer enamel, but also makes discoloration more visible. Drinks with dark pigments and tannins, like tea, red wine, soda, and coffee, could also discolor the teeth. Foods high in sugar and starch promote plaque buildup, as does improper brushing and flossing or infrequent dental cleaning visits. Smoking cigarettes and using tobacco products could discolor the teeth too.
Out At-Home Approach
To brighten teeth by several different shades, we offer treatment that can be done at home! The process starts with a visit to the office, so we can take detailed digital images of the smile and use them to create a set of custom plastic trays. Youi then take these trays home with you, along with a powerful bleaching gel. At home, the trays will be filled with gel and worn for about 30 to 45 minutes a day. The trays help ensure that saliva doesn't dilute the gel, and that your whitening is even. This process continues for one week to ten days. The exact time will depend on the cause and extent of your teeth stains. You then keep your treats and any remaining gel for touch ups in the months to come!
Keeping Your Smile Shining
You can also take other steps to prevent major staining, and safeguard your oral health at the same time. Avoid tobacco products, and try to cut back on foods and drinks with sugar and dark stains. You should also brush for two minutes a day, and floss every evening, which helps control plaque buildup. You then need to see us for a dental cleaning to remove all buildup and polish your teeth, which helps them stay bright. If you have any questions about how teeth stains form, or about how we can remove them with teeth whitening, then contact our team today. Even if you have permanent teeth, we can still help by masking stains with bonding or veneers.
Talk To Your Allen, TX Dentist About Teeth Whitening
We would love to help you obtain brighter smiles in as little as one week. If you want to know more about our cosmetic procedures and lifelike treatments, or if you are ready to book an appointment, contact your Allen, TX, dentist, Dr. Torrens-Parker, by calling 469-342-6644.