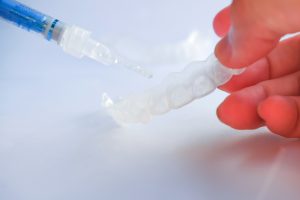 We know how confident a bright smile can make us feel, so we offer our patients a professional teeth whitening option. In today's blog, your Allen, TX, dentist will look at the at-home option we provide that ensures more dramatic and longer-lasting results than most store-bought options.
Creating Your Trays
First, you sit down with our dentist so we can assess the cause and extent of your discoloration. From there, we will take detailed impressions of your smile and use them to design and create a set of plastic trays. We then send you home with these trays, along with a powerful bleaching gel. The rest of your treatment is then completed from the comfort of your own home, and could mean teeth brightened by up to eight shades.
The Whitening System
At home, you will wear a set of gel-filled trays for about 30 to 45 minutes a day. The initial treatment time will depend on the dentist's recommendations, but usually falls between a week to ten days. You then keep your trays and any remaining gel for touch-ups in the coming months once discoloration reappears. If you have permanent discoloration that doesn't respond well to teeth whitening, then we can help by masking stains using dental bonding or lifelike porcelain veneers.
Keeping Your Smile Bright
Discoloration often appears due to our daily habits, which could encourage stains. To help improve the brightness of your smile, consider cutting back on sugary foods and drinks, as sugar promotes plaque buildup that in turn, makes stains more visible. You also benefit from fewer drinks with dark pigments, such as tea, red wine, coffee, and soda. Smoking cigarettes and using other tobacco products could also lead to unsightly yellow stains too.
Routine daily care also helps brighten teeth by removing food particles and reducing the severity of plaque buildup. You should start your day by brushing your teeth for two minutes when you wake up and again before bed. Use a soft-bristled toothbrush when you do, and a toothpaste that contains fluoride. Before bed, try to floss too, as this removes what a toothbrush alone cannot. We also suggest a visit every six months for a checkup and cleaning, so we can remove all plaque and keep a close eye on your smile. We polish the teeth in the same visit, which helps them stay bright. If you have any questions about teeth whitening, then contact our team today.
Our Allen, TX Dentist Talks About Cosmetic Dentistry
Your Allen, TX dentist's office wants to help you obtain a smile that you can't wait to show the entire world. To find out more about improving smile beauty with teeth whitening or our other cosmetic treatments, then please call Allen Family Dental at (469) 342-6644.