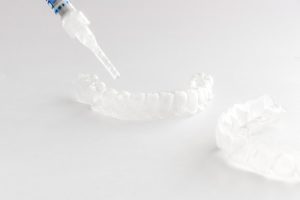 If you have embarrassing teeth stains, don't hide your smile! Instead, talk to your Allen, TX, dentist about possible solutions. With a set of custom trays and a powerful bleaching gel, we can remove discoloration and brighten teeth by multiple shades. In today's blog, we're going to talk about what to expect from our whitening procedures.
The Causes of Your Teeth Stains
How does discoloration form on our teeth? Often, our daily habits are the cause! For example, a diet high in sugary and starchy foods promotes plaque buildup, which makes stains more visible. When you fail to properly brush and floss, or see us for cleanings, this also allows plaque to worsen, leading to stained smiles. If you drink beverages with dark pigments, they could also discolor the teeth. Smoking cigarettes and using other tobacco products is a factor too. As part of your treatment, we will examine your smile to identify the factors behind your stains, and assess the severity.
Creating Custom Trays
If we decide that our professional teeth whitening procedure is right for you, then we will take detailed impressions and images with digital technology. We use the information to design and create a set of plastic trays. They will be custom-fitted for a comfortable fit. We then send you home with these trays, along with a powerful bleaching agent. The trays will be filled with gel and then worn for about 30 to 45 minutes each day. They help ensure even results across your smile, and prevent saliva from diluting the bleaching ability of the gel. The total course of treatment usually takes about one to two weeks, and you could have smiles brightened by several shades. Any leftover gel could then be used with the trays to offer touchups in the coming months.
Keeping Your Results Bright
To help keep your smile bright, you should take time to brush your teeth twice a day and floss every evening. You should also cut back on sugary foods and drinks, and drink more water instead of beverages with staining ingredients. Avoid tobacco products too! Also, make time to see us for a cleaning every six months. The cleaning allows us to remove plaque and tartar completely, and then polish your smile. We brighten your teeth, and also reduce the risk of tooth decay and gum disease. If you have any questions about how we brighten smiles and address other cosmetic issues, then contact our team today to learn more.
Talk To Your Allen, TX Dentist About Cosmetic Dentistry
We want to help brighten your smile by removing all your unsightly teeth stains. To find out more about our professional cosmetic treatment options, then contact your Allen, TX, dentist, Dr. Torrens-Parker, by calling 469-342-6644.