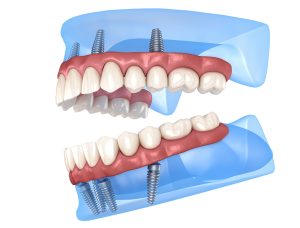 If you've lost all of your teeth, your jawbone will weaken with time, which could impact your ability to receive implant dentures. However, your Allen, TX, dentist can offer a version that only requires four implant posts for support, helping even those with lost mass and density in the jaw receive a durable and lifelike prosthetic!
The Benefits of All-On-Four®
When we lose our teeth, the body suspends the flow of key nutrients to the jawbone. Without regular doses of calcium and phosphates, the bone tissue begins to break down. For those interested in implant dentures, they could find there isn't enough tissue to support their placement, at least not without first undergoing jawbone grafting or sinus lifts first. However, with All-On-Four®, four specially placed implants, designed to require less jawbone structure to be supported, will be inserted at different points in each jaw. They will support the prosthetic, and also stimulate the growth of bone tissue as the body accepts them as natural roots. Which means a new smile is possible without oral surgery first!
Placement
Our team will first carefully examine the smile with advanced digital technology, and gather digital images and measurements. We may extract any few remaining teeth too. We then use the images to create a 3D model. After we choose the best places to insert the implants, we guide the placement process with technology. Each of the biocompatible titanium post is then inserted into the smile.
Creating and Attaching Your Prosthetic
Once your new roots are in place, we then add abutments to each one and attach the prosthetic. The denture portion will be custom-made and fitted to your smile, ensuring a comfortable fit and a balanced bite. Each one contains a full row of lifelike and durable teeth set in an acrylic base that mimics the appearance of gum tissue. They will be attached to the implants and fixed in place, so they never slip when you eat or speak. For some, they could last decades, possibly a lifetime! We can help ensure their success with routine visits for checkups and cleanings, and regular homecare to remove food particles and prevent bacterial buildup.
If you have any questions about how we approach supporting a new smile with just four dental implant posts, or if you have a number of lost teeth and would like to learn more about the process of crafting and placing a prosthetics, then please contact our team today to learn more.
Talk To Your Allen, TX Dentist About Implant Dentures
Even if you've lost your teeth and suffered from weakened jawbone structure, we're ready to help with the All-On-Four®. To find out more about our lifelike and durable implant dentures, please contact your Allen, TX, dentist, Dr. Torrens-Parker, by calling 469-342-6644.