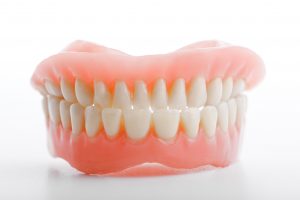 Our last blog was all about partials, which help those with tooth loss too severe for bridges, but not major enough to address total tooth loss. However, if you have lost all, or most, of your teeth, then you may benefit from a full set of dentures. In today's blog, your Allen, TX, dentist will discuss how we create these tooth loss solutions. You don't have to live with an incomplete smile anymore!
The Need for a Complete Prosthetic
When you lost the majority of your teeth, this could mean trouble eating, limiting you to only soft items and depriving your body of key nutrients. For others, trouble speaking is common, which impacts your social interactions. To improve your appearance, and your quality of life, you may need a complete prosthetic that replaces every tooth on one or both arches, so you can smile without worry and eat your favorite meals!
Design and Fabrication
We will begin by extracting any remaining teeth and then taking detailed impressions and digital images of your smile. The images and measurements we gather will be employed in a dental lab setting to design and craft the denture itself. The prosthetic will consist of an acrylic base that mimics the appearance of gum tissue, and a series of lifelike teeth crafted from materials life ceramic. Not only will they absorb daily brie forces, but they can be color-matched to look natural. Being custom-made means the finished product first comfortably and reflects your facial structure.
Daily Care
The prosthetic will be held in place with natural suction for the lower arch one, or with the assistance of a special adhesives for the upper arch version. They will be removable, and you will need to speak and clean them periodically. We will provide detailed instructions on doing so. With proper care and attention, they can last between 5 and 10 years on average, before changes to your jaw ridge shape will necessitate replacement. In the meantime, you will be able to treat your favorite foods again and smile with confidence!
If you have any questions about how we address tooth loss, or about preventing tooth loss, then please contact our team today to learn more. We would love to help you continue to enjoy a complete smile, and better oral health as a result.
Do You Have Gaps in Your Smile?
Our team is here to help you maintain a complete and attractive smile with a dental prosthetic. We can create both partial and complete options, so no matter how minor or severe your tooth loss, we have the most appropriate solution. To learn more about restoring the function, health, and appearance of your smile, then contact Allen Family Dental in Allen, TX today by calling 469-342-6644.