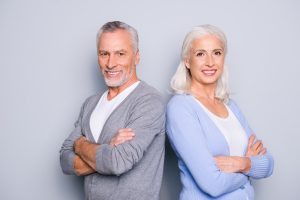 Life with missing or severely unhealthy teeth can be challenging, and it can make a person deeply unhappy with the way they look. At our Allen, TX dental practice, we are ready to help our patients see major life improvements with All-On-4 implant dentures! With four carefully placed dental implants, it is possible to keep a full denture secure. In addition to giving a person a confident, attractive smile, this restoration also makes it easier for people to bite and chew! It should be noted that if you delay the restoration of your full smile, problems associated with tooth loss can create complications that add to a person's overall treatment time.
Enjoy More Support From An Implant-Supported Prosthetic
Dental implants make it possible to hold restorations in place without relying on epoxies or natural suction, which can make them feel more comfortable. When you have dental implants put in to hold dentures, you can find that your ability to bite, chew, and speak are improved by this stability. That can be important for your confidence, and it can allow you to work a larger variety of foods into your normal diet.
Using A Limited Number Of Implants To Hold Your Restoration In Place
With just four dental implants, it is possible for us to secure your full denture! At an initial visit, we can perform an evaluation to see where these posts should be placed, and to determine if you are ready to undergo the implant placement procedure. Once these matters are confirmed, we can start you on the process to regaining your smile! While four implants take up a relatively limited amount of space, they are capable of keeping your prosthetic appliance secure, and they can provide stimulation that preserves the condition of your jawbone.
Putting Off Restorative Work Can Lead To Complications
Tooth loss can hurt more than just your smile, and your ability to bite and chew. When teeth are missing, a person's jawbone can actually deteriorate because the roots of their teeth are no longer in place to stimulate the bone. If you wait to address your incomplete smile, that deterioration can interfere with your approval for treatment! Jawbone grafts have helped improve the candidacy of patients interested in dental implants, but if you restore your smile before deterioration is an issue, you can have a less involved treatment process!
Talk To Allen Family Dental About All-On-4 Implant Dentures
At Allen Family Dental, patients who are frustrated by advanced tooth loss can enjoy a modern solution in the form of All-On-4 implant dentures! With your restorative work completed, you can once again show off a full smile, and feel more comfortable biting and chewing. To schedule a meeting with Dr. Torrens-Parker or Dr. Lizardi, call Allen Family Dental in Allen, TX, today at (469) 342-6644.