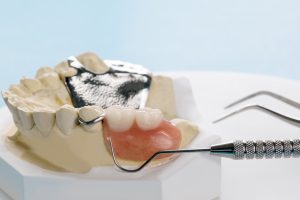 In our previous blog, we looked at how a bridge addresses minor cases of tooth loss. But what if you have lost a large number of teeth? For many, a custom-made partial denture could help patients in Allen, TX, enjoy a complete smile again. In today's blog, we're looking at our lifelike and durable dental prosthetics.
The Causes of Tooth Loss
What causes our smile to suffer the loss of multiple teeth? For some, this could be due to injury, while others may lose a tooth to advanced tooth decay or infection. The most common cause is actually gum disease. In the advanced stage of the disease, then tissues that connect the teeth and gums could be severed, leading to adult tooth loss that worsens with time. Before we move forward with a prosthetic, we may suggest treatment to begin managing your periodontal disease to prevent further tooth loss.
Creating Your Custom Denture
To begin, we will carefully examine your smile and may need to remove any teeth severely diseased or loosened due to periodontal disease. Next, we take a series of detailed impressions and images with advanced digital technology. In a dental lab setting, our team will next design and fabricate the finished product. The partial will consist of new teeth created from materials such as ceramic, which absorb bite forces and can be color-matched to blend with your smile. They will be set in a base made from acrylic, which looks like gum tissues. There will be metal clasps that are invisible when worn, but attach to natural teeth to secure your denture in place.
Maintaining Your Partial
We will provide detailed instructions for cleaning and soaking your prosthetic. With proper care and attention, your remaining natural teeth can stay in place, and overall, your prosthetic could last for between 5 and 10 years. With your new smile you can once again eat your favorite foods, smile with confidence, and not feel embarrassment in social situations. You could also speak clearer as well! If you have any questions about how we treat tooth loss, or if you have missing teeth, then give us a call. We can schedule a consultation and examine your smile to see which option will be right for you. Each denture we provide will be custom-made and fitted for your smile, reflecting your unique facial structure and offering a lifelike appearance.
Ready to Talk About Tooth Replacement?
We want to help you maintain your best smile by addressing missing teeth and allowing you to avoid major complications down the road. To learn more about addressing substantial cases of tooth loss, then contact Allen Family Dental in Allen, TX today by calling 469-342-6644.