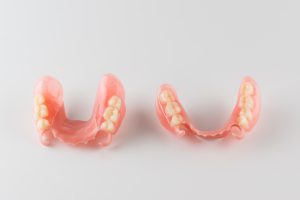 When you have several lost teeth, and gaps spread out across your smile, a bridge may not be enough to replace your lost teeth, and a full denture may not be needed. Fortunately, there is a middle ground with a partial denture. In today's blog, your Allen, TX, dentist will explain how we create a partial denture, and the benefits of addressing your tooth loss!
Treating Advanced Tooth Loss
When you lose natural teeth, the gaps left behind in your smile could cause surrounding teeth to begin moving from position, causing misalignment. Dental misalignment alone could lead to a higher risk of issues like tooth decay and gum disease! In addition, the loss of your natural teeth could also place pressure on your jaw joints, leading to an increased likelihood of TMJ disorder and bruxism (teeth grinding). Finally, multiple missing teeth may mean difficulty eating your favorite foods, and could impact how clearly you can speak. Not to mention, the embarrassment when you smile!
A Custom Prosthetic
First, we will carefully examine your smile to assess the cause and extent of your tooth loss. We then take detailed impressions and measurements, which we use to create the prosthetic. A partial contains a base that blend with the gums and is made from acrylic. The new teeth may be crafted from materials like ceramic, which offer durability and a lifelike appearance. Metal clasps, invisible when worn, will attach to natural teeth and secure your new ones.
Maintaining Your Partial
With proper care and attention, your new teeth could last 5 to 10 years before requiring replacement or adjustment. You should wear them daily and also remove them for cleaning and soaking. We will provide detailed instructions for the cleaning and maintenance. You also need to take better care of your smile as a while, which helps lower the risk of future tooth loss. You should take time to brush your teeth twice s day, and floss every night before bed. Cutting back on sugary foods and drinks helps, as does avoiding tobacco products. Be sure you attend a checkup and cleaning every six months too, so we can keep an eye on your smile and address any potential issues in the earliest stages. We also remove plaque buildup, which lowers the risk of decay, infection, or periodontal issues. If you have any questions about replacing missing teeth or avoiding tooth loss, then contact our team today.
Our Allen, TX Dentist's Office Treats Tooth Loss
Your Allen, TX dentist's office is ready to return your smile to full function, health, and beauty once more. To find out more about our custom dental prosthetics and about avoiding tooth loss, then please call Allen Family Dental at (469) 342-6644.