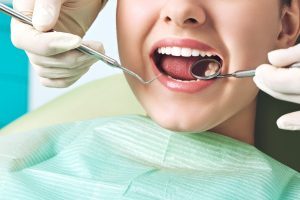 When you have a single issue with your smile, such as teeth stains or a cavity, then a single treatment could be enough to help. But what if you have multiple cosmetic and restorative issues? To help completely transform your smile and rebuild it, your Allen, TX, dentist may suggest a full-mouth reconstruction.
The Dangers of Decayed or Missing Teeth
First, let's talk about the potential impacts of common oral health issues we address with reconstruction. For example, a cavity may seem like a minor issue, but unless treated an infection could form that spreads to other teeth, leading to increasing discomfort and eventual tooth loss. Again, gum disease, which initially starts as inflammation, could lead to missing teeth as well. Tooth loss itself causes a break down in the jawbone structure that could lead to further tooth loss and a prematurely aged appearance. With a full-mouth reconstruction, we have the ability to address these issues and more with an array of unique treatment options.
Examining Your Smile and Planning Treatment
The process begins with an initial consultation. We want to discuss your goals for your smile, and also take detailed digital images with x-ray and digital imaging technology. These images and measurements enable us to plan your treatment with great precision and accuracy. The resulting procedures will correct esthetic issues, and also return function and health to your smile as well.
The Reconstruction
For cavities and minor damage, we could use composite resin in bonding and filling procedures, which is a material we color-match to blend with your smile and that provides long-lasting repair. We could use teeth whitening, contouring, and porcelain veneers to improve the beauty of your smile too, erasing stains and repairing malformed teeth as well. For more severe cases of decay, or for infections or damage, we could repair teeth with a root canal followed by the placement of a custom-made dental crown.
If you have missing teeth, we could address this with a bridge, an individual dental implant, or even an implant-secure bridge. A dental implant helps rebuild jawbone structure to prevent further tooth loss and preserve your facial structure. If you have lost most of your teeth, we could support a full denture with only four specially placed dental implants. The All-On-Four procedure often means you leave the office in the same visit with a complete smile, one that never skips and could last for decades to come.
If you have any questions about treating cosmetic and restorative issues, then contact our team today.
Do You Have Questions About Reconstructing Your Smile?
We want to help you enjoy strong, healthy smiles that fill you with confidence. To learn more about transforming the health and beauty of your smile, then contact Allen Family Dental in Allen, TX today by calling 469-342-6644.