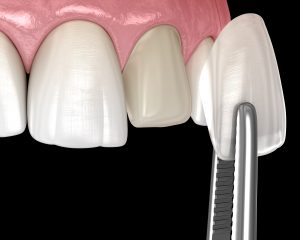 If you really want to see major changes for your smile beauty, then you may want to consider porcelain veneers. With one or more cosmetic restorations, then your Allen, TX, dentist may be able to transform the beauty of your smile in just two visits. In today's blog, we're going to explain how we design and place them!
The Benefits of Placing Veneers
A porcelain veneer is made from a strong material that absorbs bite forces, but also mimics the translucent nature of tooth enamel. We shape and tint the material to ensure it blends with the rest of your smile. We may even whiten teeth beforehand to ensure it matches your brightest smile! Once in place, each veneer covers the font and sides of each tooth, instantly altering shape and color.
We could use them to lengthen worn down teeth, repair minor cracks and chips, and even reshape malformed teeth too. Placement has been shown to mask permanent teeth stains, and even correct the appearance of minor misalignment. If you have gaps or black triangle spaces between teeth, we can correct these as well.
Crafting a Cosmetic Restoration
To ensure to a lifelike appearance, and a fit that maintains good bite balance, each one is custom-made and fitted. To craft one, we start by administrating a local anesthetic and then removing a thin layer of outer enamel. Next, we take detailed impressions using advanced digital technology. The images and measurements we take enable us to design the restoration in a dental lab setting. When they're complete, you return to the office for a second visit so we can attach them with a powerful bonding agent. You then leave with a stunning new smile!
Keeping Them Strong and Bright
You of course want to keep these porcelain restorations bright, and protect the teeth we've attached them to, to ensure they last for decades to come. To do so, you need to make time to brush and floss your teeth daily, and to also cut back on harmful sugary foods and drinks. Seeing us every six months for a checkup and cleaning is important too. These actions help prevent the decay, infection, or gum disease that threatens your natural teeth, and prevent discoloration from forming on the restorations. If you have any questions or concerns about how we restore and repair your smile, or if you would like to schedule a cosmetic consultation, then contact our team today.
Do You Have Questions About Restoring Smile Esthetics?
We want to help you enjoy a perfect smile with a custom-made cosmetic restoration. To learn more about how we repair smile beauty in two visits with one or more of our lifelike dental veneers, then contact Allen Family Dental in Allen, TX today by calling 469-342-6644.