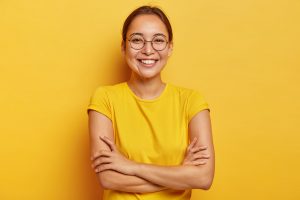 When you find yourself unhappily examining your smile in the mirror, but hiding it when your picture is being taken, it might be time to consider cosmetic dental work. While some people have flaws due to naturally occurring problems with their teeth, others can experience changes over time that make their teeth appear discolored, worn, and generally less attractive to them. At our Allen, TX dental practice, we are prepared to help individuals who want to show off a confident smile. By placing porcelain veneers over problem teeth, we can help you address many different flaws that might be hurting the quality of your appearance. In addition to covering up many problems at once, veneers provide long-term durability, so you can continue to show off your improvements for many years!
Frustrated By Discolored, Damaged, Or Crooked Teeth?
Veneers completely cover the front of teeth, and are customized to provide the right shape and size to deliver your ideal improvements. At your first visit, your dentist will carefully measure your teeth, and perform minor preparatory work to make space for their placement. Once put in place, veneers can cover up discoloration, and address your concerns with misshapen or damaged teeth. Because they are able to provide so many improvements at once, veneers can help you effectively transform your smile with just one procedure!
Some Tooth Problems May Call For More Functional Support Than Veneers Provide
Sometimes, a person who has concerns about an undersized or misshapen tooth may need more than a cosmetic restoration. If that tooth's condition affects its ability to bite and chew, or if it is more vulnerable to oral health problems, your dentist may recommend a dental crown. Fortunately, modern crowns can deliver cosmetic improvements, so this will not derail your efforts to enjoy smile improvements.
How Long Will Improvements Last If I Have Veneers Placed?
Veneers are made from a remarkably strong porcelain substance that is prepared to handle the pressures created when you bite and chew. In other words, your cosmetic restorations are capable of withstanding the demands placed on them without losing their quality appearance. Patients who undergo cosmetic work can look forward to improvements that last for many years, provided they practice good oral care habits. As with untreated teeth, your habits can affect the way you look. You should continue to brush and floss after receiving veneers, and you should continue to schedule regular preventive dental appointments.
Talk To Allen Family Dental About Addressing Flaws With Veneers!
At Allen Family Dental, we are prepared to help you if you think something might be wrong with your smile. To schedule a consultation with Dr. Torrens-Parker or Dr. Lizardi to discuss veneers, or any other oral health procedure, call Allen Family Dental in Allen, TX, today at (469) 342-6644.