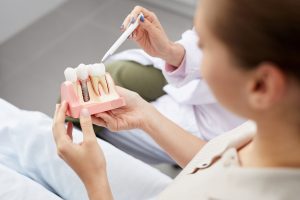 Adult tooth loss can be troubling for a number of reasons. First, having a few or even all structures missing can cause a significant reduction in one's confidence, as many individuals associate the feeling with a beautiful grin. Another concern is that having a gap between teeth can be difficult for overall function as well, as your bite will need to readjust to accommodate the missing structures. This can cause difficulty in eating, biting, and even enunciation, and prolonged use can even cause discomfort or pain. Fortunately, your Allen, TX dentist at Allen Family Dental has the solution to those missing teeth, and is here to inform you about three ways that dental implants can complete your smile.
Replacing a Single Tooth
Losing a tooth can have a significant impact on your overall oral health as well as your quality of life. Even if it is a single structure, your bite, function, and more are impacted. What's more, if you lost a structure to decay or infection and do not replace it with an artificial tooth, your chances of losing more surrounding teeth are dramatically increased. What's more, the lack of a root embedded in the jaw can cause significant deterioration over time. As a solution to these issues, your dentist may recommend a dental implant.
A dental implant is a titanium post that functions as an artificial tooth root. Utilizing advanced technology, the post is strategically placed and secured within the jaw bone. The bone will begin to heal around the post, and once it has completed the healing process, will create a tight bond that will function to absorb the standard pressure of your bite, restoring your mouth's function. Atop the post will sit a restoration, which is a custom-created crown that is shade-matched to your grin in order to provide a seamless appearance. For more information, contact our team today.
Addressing Multiple Structures
If you experience losing multiple consecutive teeth, a solution you could pursue includes an implant-retained dental bridge, which is comprised of two or more restorations in a row that are meant to bridge the gap between your remaining functional teeth. They can be either cemented to the remaining structures, or can be placed with implant technology, securing it to your jaw.
Securing Dentures
While there are solutions to a few missing teeth, what happens when all of your structures are missing? Regular dentures have been utilized for years to address this very issue, utilizing a paste that temporarily holds them in place. Fortunately, innovative implant dentistry can provide another, more secure solution with an All-On-4 approach. With these, you can rest assured knowing your dentures are secured with the strategic placement of only four titanium posts, making recovery time a much speedier process.
Schedule Your Appointment Today
Whether you are missing one tooth or multiple, the team at Allen Family Dental is here to help. Contact our Allen, TX location by calling 469-342-6644 to learn more.