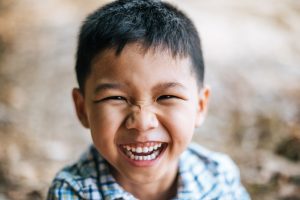 In our last blog, we discussed dental sealants, which help protect little smiles. We would like to continued our focus on children's dentistry. In today's blog, your Allen, TX, dentist is going to look at how you can keep your child's smile healthy from home, and why kids of all ages need routine checkup and cleaning visits!
The First Happy Visit
We suggest your child's initial office visit happen around their second birthday. Also known as the "happy visit", this one rarely involves any treatment. Instead, we simply perform a visual examination to make sure the teeth are erupting as they should, and to gauge the health of their smile. Following this initial appointment, we suggest one be scheduled every six months for a checkup and cleaning. Our team knows how to help ensure kids feel relaxed and comfortable, and use these appointments to instill good habits, help them better understand their oral health, and of course, identify possible areas of concern in the earliest stages. We also clean the teeth to remove plaque that could otherwise lead to higher risks of tooth decay and gingivitis.
Care at Home
Children also need regular care at home. As soon as teeth erupt, you should clean them twice a day. As your child grows, upgrade to age appropriate toothbrushes and use a rice-sized blot of fluoride toothpaste. They should brush in the morning and before bed for about two minutes, and also begin flossing once there are teeth sitting side by side. Routine care is essential for avoiding issues like cavities and gum disease, especially as they grow older and reach the teen and adult years. Starting care at an early age helps cerement these habits, helping them grow up with healthy smiles!
Preventive Treatments
We can also discuss treatment options to help strengthen their smiles. With fluoride treatments, we apply a special varnish every checkup appointment that helps strengthen the outer enamel to prevent cavities. We also have dental sealants, which we place on the rear teeth to prevent food from becoming stuck between them. If your child has a cavity, we have metal-free composite resin fillings that look natural and help protect the smile form infection and premature tooth loss. If you have any questions about our preventive approach to children's dentistry, or if you would like to schedule a visit for your little one, then contact our team today.
Our Allen, TX Dentist Talks About Children's Dentistry
Your Allen, TX dentist's office wants to help your kids maintain optimal oral health and brighter smiles with preventive care both at home and in our office every six months. To find out more about keeping little smiles healthy and strong, then please call Allen Family Dental at (469) 342-6644.