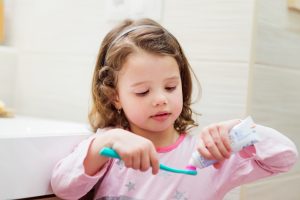 Protecting your child's smile is certainly part of your larger overall goal of keeping them safe, healthy, and happy. Unfortunately, it can be difficult to help them manage their oral health when they fail to understand the importance of protecting their teeth from cavities, or when they simply lack an understanding of proper oral care. Pediatric dental exams can offer significant benefits when it comes to protecting kids against tooth decay. In addition to providing them extra support against oral bacteria, your Allen, TX dentist can provide them with the kind of guidance that makes it easier for them to understand how to keep their teeth clean, and their smile healthy!
Does Your Child Have A Clear Understanding Of Why Oral Care Is Important?
Young children have a lot to learn about…well, about pretty much everything! While a child's smile may not be naturally vulnerable to problems, they can face a higher risk for problems just because they do not understand what proper oral care requires of them. During visits with young children, your dentist can set time aside for lessons, and instructions, to improve their care at home.
Providing Extra Cavity Support With Sealants And Fluoride Treatments
Guidance and standard preventive dental care can help kids, but they may require more than just the review and expert dental cleaning adults enjoy during routine appointments. Your dentist can offer extra support for kids with dental sealants. Your dentist can let you know when this step is appropriate to take, and what they can do for your child's oral health. Sealants block food debris and oral bacteria from gathering directly on their teeth, so their chances of experiencing decay are lessened.
Encouraging Your Child To Keep Up With Good Oral Health Habits At Home
Between their regular dental visits, you can help your child by giving them helpful tips on brushing and flossing at home. When they first take on the responsibilities of brushing and flossing their own teeth, you might want to join them, and check that they are taking these activities seriously. You should also look for ways to control their sugar intake – because kids tend to be attracted to sweets, committing to providing healthy alternatives to sweet treats can be important.
Allen Family Dental Can Help Protect Young Patients Against Cavities
Allen Family Dental is committed to helping Allen, TX residents of all ages enjoy better support against problems like tooth decay! Bring your kid, or kids, in for routine pediatric dental care! During every appointment, our practice is ready to help them manage their oral health care, and we can make sure they understand why it is so important to prevent cavities! To plan their consultation with Dr. Torrens-Parker or Dr. Lizardi, call Allen Family Dental in Allen, TX, today at (469) 342-6644.