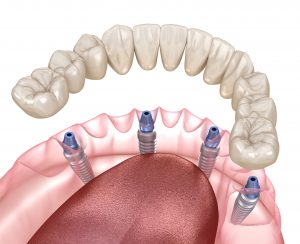 At one time, a full set of dentures secured with dental implants meant anywhere between six and eight implant posts per arch, which limited candidacy for many people. However, with All-On-4®, your Allen, TX, dentist has an option to restore your missing teeth and help you enjoy a full and functional smile, often in as little as one visit in some cases.
What Happens When You Lose Natural Teeth?
When faced with the loss of most of our natural teeth, our oral health and facial structure suffers. For example, many people find themselves unable to eat a variety of foods, and forced to rely mainly on soft items, depriving themselves of key nutrients and their favorite meals. Others could have trouble speaking clearly. Since the body stops sending does of calcium and phosphorus to the jawbone around a lost tooth, this means the bone tissue loses mass and density, causing facial collapse and an aged appearance.
The All-On-4® Denture Option
The All-On-4® implant denture uses just four specially placed dental implants in each arch to support a full prosthetic. Using advanced technology, we will plan the perfect angle to insert the implant post into the jawbone, ensuring they can absorb daily bite forces and support a new smile. Since the body accepts dental implants as natural roots, this halts the loss of mass and density in the jawbone and actually stimulates the growth of new tissues.
Benefits For Our Patients
If you've already lost jawbone density due to missing teeth, then you may not qualify for an implant denture without first undergoing bone grafting or ridge augmentation. However, All-On-4® often prevents the need for these surgical procedures. They also allow our team to insert the new rots and attach a prosthetic same-day, so many patients leave the office with a full smile. Since they body sees the posts as new roots, the dentist has the ability to last for decades to come, even a lifetime in some cases. Of course, we will create the prosthetic portion base on detailed impressions we take of your smile, ensuring not only a comfortable fit, but a lifelike appearance too. If you have any questions about addressing tooth loss, or if you simply want to schedule your next appointment, then contact our team today.
Our Allen, TX Dentist's Office Treats Major Tooth Loss
Your Allen, TX dentist's office understands the value and importance of a full smile, which is why we offer durable and long-lasting implant dentures. We want to return your smile to optimal health, function, and beauty, so you smile with confidence and enjoy your favorite meals again! To find out more about our full-arch prosthetics, then please call Allen Family Dental at (469) 342-6644.