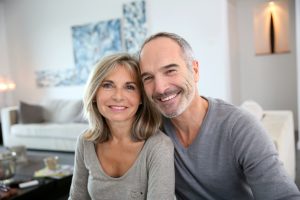 The experience of advanced tooth loss can be a frustrating one, and one that can create problems that affect you on a daily basis. At our Allen, TX dental practice, we can offer a lasting solution to this issue. We can work with patients who need a full denture, and offer permanent stability for this restoration with All-On-4 dental implants! With just four dental implants, we can make sure you have the support you need to keep a permanent hold on your custom denture. Through this arrangement, you can feel better about your smile, while also finding it easier to bite, chew, and speak!
Enjoying A Stable Denture
An unsecured denture that remains in place thanks to assistance from epoxies, or natural suction, can become frustrating for how insecure it may feel at times. You can find that concerns about your denture slipping make you self-conscious while speaking and laughing, and you may have too little bite support to enjoy some of your favorite foods. The goal of a stable denture is to give your prosthetic more value, and help make sure it provides more comfort in your daily life. In the long term, it can also help by keeping your jawbone stimulated, which protects you against losing mass in this bone.
How Four Dental Implants Support Your Restoration
While individual dental implants are used to hold individual dental crowns, it is possible to hold an entire denture with just four! All-On-4 dental implants are strategically placed to provide the most stability for your restoration, and to allow you to feel most comfortable when you receive it. Your dentist will determine the right placement by evaluating your jaw. An initial evaluation is also important because it can determine if any preliminary work should be performed before moving on to have the implants placed.
Long-Term Benefits Of An Implant-Held Prosthetic
As with any type of restorative dental work, the goal when arranging the placement of All-On-4 implant dentures is to help a patient enjoy lasting benefits from their smile improvements. Your stable denture can allow you to enjoy a richer diet, as you can have an easier time biting and chewing. The stimulation of your jawbone by your implants can keep the bone in good health, which means you will not have to worry about losing its support, or having cosmetic changes in response to its deterioration. That loss of density is a problem that affects people over time when they do not have implant-held prosthetic restorations.
Talk To Allen Family Dental About All-On-4 Implant Dentures!
At Allen Family Dental, patients who want to do something about significant tooth loss can learn about the advantages of having All-On-4 implant dentures! To learn more about this approach to prosthetic care, or to make an appointment with  Dr. Torrens-Parker or Dr. Lizardi, call Allen Family Dental in Allen, TX, today at (469) 342-6644.