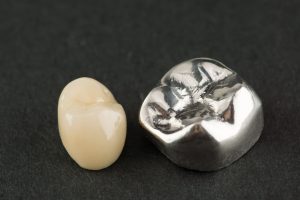 When a tooth sustains serious damage, such as a crack or chip, or if an advanced cavity or infection arises, then treatment is crucial for avoiding major oral health complications. In today's blog, your Allen, TX, dentists explain how a custom-made and modern dental crown can not only look natural, but restore function and health to your smile once more.
Crafting a Dental Crown
Each one we place is custom-made specifically for the patient, which ensures not only a comfortable fit, but a more lifelike appearance and increases the chances of the restoration lasting for many, many years to come. We start by administering a local anesthetic and then removing structure from the tooth itself. We then take detailed impressions and measurements of the prepared tooth, which we use in the design and fabrication process. The crown will be placed using a powerful bonding agent in a follow-up visit. The restoration addresses every part of the tooth from the gum line up, making it the perfect option to address a wide array of cosmetic and restorative issues. For example, we can repair cracks and chips, treat cavities and infections, and lengthen teeth worn down by teeth grinding. We even aid in tooth placement by securing a custom dental bridge or restoring a single tooth dental implant.
Durable and Lifelike Materials
The materials we will use will depend on the position of the tooth. For the rear teeth, which must endure greater bite forces and pressure, we may opt for a gold restoration. We also have zirconia, which is durable and also able to be shaded to match the color of surrounding teeth. We reserve all-porcelain for the front-facing teeth, as this material mimics the translucent nature of tooth enamel and can also be shaded to blend with the color of surrounding teeth.
Maintenance
Routine care not only preserves the new restoration, but also prevents the onset of other issues that could impact your natural teeth. Brushing your teeth twice daily for two minutes, and flossing every night before bed, help remove food particles and control plaque buildup. Plaque is a major factor in the onset of cavities and gum disease. You should also cut back on sugary foods and drinks, which feed harmful bacteria, and make time to see us for an exam and cleaning every six months. These steps help control your oral health and protect your smile, new restorations included! If you have any questions, then contact our team today.
Our Allen, TX Dentist's Office Restores Smiles!
Your Allen, TX dentist's office is ready to help our patients enjoy healthier smiles, addressing serious concerns in just two visits. To find out more about how we repair damaged teeth and improve oral health, please call Allen Family Dental at (469) 342-6644.