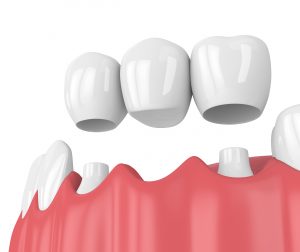 When you lose a single tooth, or up to three in a row, then you could have a serious problem. Even minor tooth loss may lead to major complications for your smile, and for your overall quality of life. To help replace lost teeth and improve your quality of life, your Allen, TX, dentist may suggest treatment with a custom-made dental bridge.
When We Prescribe a Dental Bridge
A bridge is great for people with minor tooth loss. Placing one fills the gap in the smile, preventing common complications of minor tooth loss, such as misalignment, or strain on the bite balance and jaw joints. Otherwise, people missing one or more teeth may develop higher risks of tooth decay, gum disease, TMJ disorder, and bruxism (chronic teeth grinding), not to mention issues eating and speaking. If you have lost even one tooth, then please let us know so we can help restore your smile's function, health, and beauty with a custom-made prosthetic.
The Process of Creating and Placing One
Frist, we need to remove structure from the abutment teeth, which sit on each side of the gap. Next, we take detailed impressions and measurements of these teeth, and use this information to design and craft the prosthetic from lifelike and durable materials, such as ceramic or zirconia. The prosthetic contains the replacement teeth, often referred to as pontics, and dental crowns attached to each end of the pontics. We place the crowns onto the abutment teeth, securing the new ones firmly in place. The materials we use ensure the ability to absorb bite forces, and blend with your smile seamlessly. Your new teeth will not only function like natural ones, but look lifelike as well, so you never hesitate to smile again!
Securing Them with Dental Implants
For greater security, and for a prosthetic that lasts for decades instead of just 10-15 years, we may secure them with dental implants. We don't need to remove structure from abutment teeth, as we attach the crowns directly to dental implants we insert into the jawbone. The implants act as new roots, stimulating the growth of jawbone tissue to prevent the loss of mass and density in the jaw that follows missing teeth. If you have any questions about addressing missing teeth, then contact our team today. We want to help protect your smile from serious complications, and ensure your feel proud when you laugh or smile!
Our Allen, TX Dentist's Office Replaces Missing Teeth
Your Allen, TX dentist's office wants to help restore the function, health, and appearance of smiles suffering from tooth loss. To find out more about addressing minor and severe cases of tooth loss, then please call Allen Family Dental at (469) 342-6644.