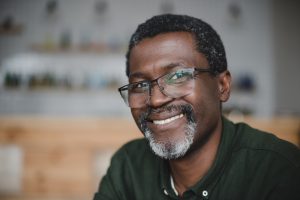 It is important to feel confident that you can rely on a fixed dental prosthetic for biting and chewing tasks. After all, part of the value of prosthodontic work is in the way it allows you to once again practice a natural bite function. This can make it easier for you to enjoy a greater variety of foods, and also prevent you from overusing certain teeth. At our Allen, TX dental office, we can provide a lifelike and durable prosthetic for you. Many of our patients have had their smiles restored with custom dental bridges. A custom dental bridge is supported by a pair of dental crowns, which can keep the restoration in place over the years, even as you use it to bite and chew.
Dental Bridges Remain In Place Without Requiring Oral Surgery
A dental bridge is an effective means of restoring a person's smile with a permanent restoration that will not require oral surgery. This can make the restoration ideal for someone who is ready to have their full smile as soon as possible, or someone who is concerned about undergoing a surgical procedure.
Planning And Placing Your Bridge
Rather than provide a loose restoration, or place a dental implant in your jawbone to hold a prosthetic, your dentist can restore your smile by creating a custom dental bridge for you. A bridge consists of two dental crowns, as well as at least one pontic (the actual replacement tooth). Some preparatory work is necessary to make sure your bridge is designed properly, and to prepare teeth to receive crowns. Once your prosthetic is prepared, you can come in to have it secured. You can quickly adapt to having your smile whole again, and return to more comfortable movements when biting, chewing, laughing, and speaking.
Reviewing All Of Your Options For Prosthetic Treatment
Dental implants can provide great benefits for many people who have suffered tooth loss. These titanium posts effectively imitate the roots of teeth in key ways. They are designed to imitate the kind of support your teeth have from their roots, and they even produce stimulation in your jawbone that can keep the bone healthy. Implants are good for more than just restoring a single tooth, as they can be used to provide patients with permanent dentures.
Talk To Allen Family Dental About Receiving A Dental Bridge
Are you ready to do something about tooth loss? Are you tired of the cosmetic and functional problems that an incomplete smile can create? Allen Family Dental is prepared to work with you so that you can once again show off a complete smile! A custom dental bridge is one of several prosthetic treatment solutions we can recommend based on your needs and preferences. To make an appointment with Dr. Torrens-Parker or Dr. Lizardi, call Allen Family Dental in Allen, TX, today at (469) 342-6644.