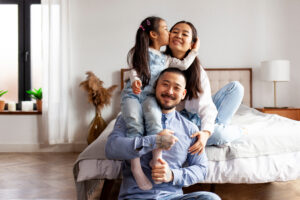 Organizing your schedule can be tough enough on your own, and when you have children, finding a time for everyone's dental visits can be tough. Routine cleanings and examinations are a key part of your whole family's oral health maintenance, however, so make the effort in keeping everyone up to date with their appointments. Dental habits start at an early age, and you have the opportunity to give your little one positive health values as they grow up.
Spend some time with our team in Allen, TX for semiannual checkups for the whole family, and discover the advantages of preventive dentistry. You have the power to show your child that the dentist is a helpful place, rather than something to fear. As the school year winds down, you can also take advantage of this time in their appointments. Make dental checkups a part of their routine before summer vacation starts!
Both You And Your Little One Need Routine Smile Maintenance
How long has it been since you last saw your dentist for a regular appointment for teeth cleaning and an examination? If it has been longer than six months, take the time to come in for your semiannual checkup. A consistent approach to your oral health can help you to avoid lasting concerns, such as tooth decay or gum disease. While we understand that a parent's schedule can be tight, these are important visits to keep your smile maintenance at a high level.
These appointments also give you the opportunity to show your child how to properly care for their oral health. Plan for your checkup right alongside your little one, so that they can see you going through the same experience. A little bit of bravery on your part can give them a positive direction for their dental future!
The End Of The School Year Is A Great Time For A Checkup
This time of year, the kids start packing up their school supplies, ready to start another exciting summer vacation. Before the start of their time off, you have an opportunity to emphasize the importance of dental health.
Schedule their routine cleaning and examination for a time around the end of their school year, and make their oral health maintenance a part of their graduation. This way, you can be sure to fit in this appointment before times become hectic. Summer is a time for activities, but it is important to take care of their important health needs before vacation.
Positive Oral Health For The Whole Family In Allen, TX
If you have been putting off your semiannual checkups, take advantage of the end of the school year to renew your family's dental focus. For more information or to set a time for an appointment, call Allen Family Dental in Allen, TX at (469)342-6644.