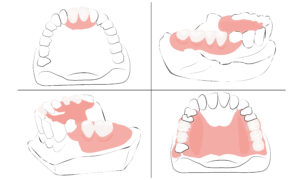 When you have a complicated case of tooth loss, such as several gaps spread out across your smile, you may not need bridges or a full set of dentures. Instead, a set of removable partial dentures could restore the beauty and function of your smile again. In today's blog, your Allen, TX, dentist talks about our partial prosthetics.
When a Partial is Necessary
A partial is meant for complicated cases of tooth loss. A bridge treats between one and three missing teeth in a row. A full denture replaces every tooth on one or both arches. But what if there are several gaps spread out across your smile? In this situation, we could recommend a partial denture. This consists of new teeth set in an acrylic base. Using ceramic for the teeth means they will be durable and we can color-match them to blend with your smile. The base looks like gum tissue. There will be metal clasps that attach to natural teeth to secure your prosthetic firmly in place.
Creating a Set of Dentures
First, we will take a detailed series of images of your smile. We use these to create a digital impression, one that allows us to design and craft a set of dentures with precision and accuracy. When the prosthetic is ready, you will return to the office so we can check the fit and make any necessary adjustments. The prosthetic could last between 5 and 10 years on average. We will provide instructions for cleaning and soaking your prosthetic.
Protecting the Rest of Your Smile
With better oral health habits, you could potentially prevent the further loss of your teeth. For example, be sure you continue to brush and floss daily, and eat a diet low in sugar and starch. Make time to see our team every six months for a checkup and cleaning visit as well. These actions help control issues like decay, infection, and gum disease, all of which could lead to factors that cause adult tooth loss. If you have any questions about how we treat missing teeth, or if you have gaps in your smile that need attention, contact our team today. Otherwise, untreated missing teeth means trouble eating and speaking, the risk of further lost teeth, and even jaw joint disorders like TMD or bruxism (teeth grinding). We want to help you enjoy a full and healthy smile again!
Talk to Your Allen, TX Dentist About Tooth Replacement
Our team wants to help you enjoy optimal health, function, and beauty in your smile! If you want to know more about addressing complicated cases of tooth loss, or if you are ready to book an appointment, contact your Allen, TX, dentist, Dr. Torrens-Parker, by calling 469-342-6644.