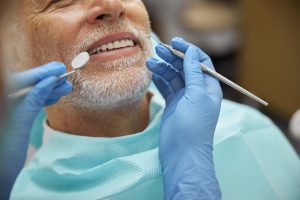 A new year is a chance to make big changes in your life. With that in mind, we want to recommend a checkup to start your new year on the path toward a strong and bright smile. In today's blog, your Allen, TX, dentist explains the benefits of undergoing an exam with our team, and encourage you to schedule your next visit soon!
Digital X-Rays and More
We want to obtain a close look at the health and beauty of your smile. With digital x-rays, we obtain detailed images instantly, so we can view them chairside and walk you through the diagnostic process. They will also require a fraction of the radiation used in traditional x-rays. Our team can also obtain digital images of the teeth and gums with an intraoral camera. These technologies allow us to identify possible areas of concern in the earliest stages. Our team often catches cavities in the earliest stages of demineralization, and could prevent gum disease by offering care in the gingivitis stages. We also watch for wear and friction that could indicate TMJ disorder and bruxism (teeth grinding). For adults, we screen for oral cancer and for kids, we make sure baby teeth are falling out on a schedule and permanent teeth are erupting correctly.
Moving Forward with Treatment
Following your exam, our team can create a personalized treatment plan to address the concerns we discover, returning your smile to optimal function, health, and beauty. We have an array of treatment options, many of which can be completed in a single visit. Working together, we can help you start the new year on the road toward a stronger and healthier smile.
Cleaning Your Teeth
Let's not forget the dental cleaning! In the same visit as your exam, we will clean the teeth by removing plaque and tartar buildup with an ultrasonic scaling device and a manual tool. Removing this bacterial byproduct helps lower the risks of issues like tooth decay and gum disease. We also fight bad breath and brighten teeth, as we finish the procedure by polishing your smile. At home, we recommend brushing and flossing your teeth daily to help limit buildup until your next six-month appointment. If you have any questions about the benefits of exams and cleanings, or if you would like to schedule your next one soon, then contact our team today. We want to make sure everyone enjoys a bright, healthy smile throughout the year!
Schedule Your First Checkup of 2020
Preserving the health and beauty of your smile means undergoing routine exams every six months. To learn more about our checkups and cleanings, or any of our preventive, general, cosmetic, or restorative treatment options, then contact Allen Family Dental in Allen, TX today by calling 469-342-6644.