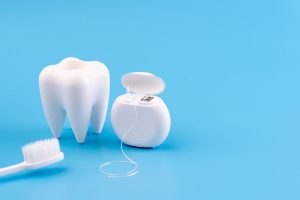 Is your smile as clean and healthy as it could be? How vulnerable are you to a problem that might require a trip to the dentist's office for restorative dental treatment? The consistency of your oral hygiene routine is important. With that said, you should also be committed to a process that fully removes harmful food debris and bacteria from your smile, which means you should floss regularly. While a trip to your Allen, TX dentist's office for routine preventive care can include a professional teeth cleaning, your smile should be thoroughly cleaned on a regular basis to prevent tartar buildup and other issues. Without this part of your routine in place, you can have a difficult time protecting spaces where your teeth meet, which are hard to access with a toothbrush.
Flossing Protects Hard-To-Reach Parts Of Your Teeth
Some parts of your teeth are more difficult to clean than others. With time and effort, you can do a good job cleaning your molars and premolars, even though they are relatively out of the way compared to your front teeth. However, a long and thorough brushing routine can still leave the spaces between your teeth poorly cleaned. While it is difficult for you to reach these spaces with your brush bristles, oral bacteria and food particles can steadily build up.
Fitting Flossing Into Your Oral Hygiene Routine
You should floss once per day if you want to effectively stop you from having tartar and food debris from accumulating between teeth. You should carefully move the string between each of your teeth, and take care to move the string vertically as well as back and forth. The vertical movement is important because it ensures these areas are completely cleaned, including the spaces where your teeth and gums meet.
What Else Can You Do To Keep Your Smile In Good Health?
Your oral health can be affected by the choices you make when you sit down for a meal, or when you grab a quick snack. Bacteria build up in a person's mouth throughout the day – when you consume more sugar, you provide more food to these harmful agents. By making smart changes to what you eat, you can limit your risk for problems that require dental fillings and dental crowns. Water consumption can also be important. Water does not pose a risk for tooth decay or teeth stains, and it can help you stay hydrated, which is beneficial to your general and oral health.
Allen Family Dental Helps Families Maintain Their Healthy Teeth
Our Allen, TX dentist's office encourages our patients to practice smart smile care on a daily basis, as the right habits can be important for preventing dental problems. If you have questions or concerns about your dental well-being, please call Allen Family Dental at (469) 342-6644.