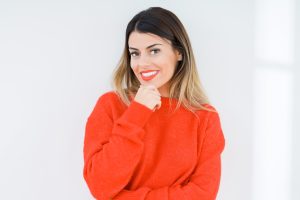 If you are tired of wishing you felt better about your smile, and want to make improvements, porcelain veneers can help! Veneers are custom-made restorations that cover the front of teeth. The porcelain material can do a remarkable job imitating dental enamel, and their presence on teeth can make a person's smile look brighter and healthier, while hiding unflattering flaws concerning tooth shape and size. At our Allen, TX dental office, we can provide patients with lifelike veneers that can hide a range of different flaws. As a result, you can show off great smile improvements that are easy to sustain, making it possible to retain your newfound confidence in your appearance for may years!
What Can Veneers Do To Improve Your Smile?
Veneers are capable of addressing many different flaws that might make a person unhappy with the way they look. One benefit to having veneers is that they can help you deal with difficult tooth discoloration, even if the problem is resistant to whitening agents. Your restorations are also good at improving the shape of teeth, and hiding visible wear and tear. One particularly exciting advantage to having veneers is that several flaws can be covered up at one time, so you can have all of your desired improvements in a short time!
How Veneers Make Improvements
When you arrange the placement of veneers, your dentist will first take careful measurements of teeth, and talk to you about your smile improvement goals. The information gathered at that initial appointment can ensure that your custom veneers are just the right shape and size to help you show off your ideal smile. Once they have been crafted, veneers are affixed to the front of teeth. To make space for them, some preliminary work may be needed. Their appearance closely mimics your natural tooth structure, but veneers are designed to hide flaws, and show better color.
Achieve Your Desired Smile With The Right Cosmetic Procedure
When you have porcelain veneers put in place, you can be thrilled to see truly noticeable improvements to your smile. While veneers have been an effective treatment option for many people, you may be interested to learn about the other cosmetic dental procedures that we can offer. For teeth stains, we can use a professional whitening treatment to improve the color of your smile. If you want to do work to improve your appearance without having permanent restorations placed, a dental bonding procedure can help you hide discoloration, damages, and problems with the shape of a tooth.
Talk To Allen Family Dental About Cosmetic Work With Custom Veneers!
At Allen Family Dental, patients who want to undergo a smile transformation can be excited by the potential for custom veneers to help them! If you are ready to discuss cosmetic dental work, or any other dental work, with Dr. Torrens-Parker or Dr. Lizardi, call Allen Family Dental in Allen, TX, today at (469) 342-6644.