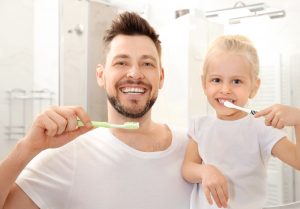 You can spend plenty of time – and energy – keeping up with young children, and helping them understand the world around them. If you want them to keep their teeth in good condition, you will need to help them understand the value of good oral health habits. Fortunately, you are not the only one who can work with them on matters that concern their smile – your Allen, TX dentist can also help with this. During pediatric dental exams with younger patients, your dentist can take the time to give guidance on proper oral care treatments. This is in addition to providing them the kind of preventive dental services that also help adult patients.
Bringing Kids To See The Dentist For Routine Dental Care
Around the time of their second birthday, kids should begin seeing their dentist for oral care. The first visit is important, but it can focus less on traditional preventive care. Over the course of this visit, your dentist will provide kids a friendly welcome to this new environment, while also providing a quick visual check of their teeth. When they begin attending their regular exams, your dentist can begin giving them more thorough examinations, while also taking care to clean their teeth.
When they reach the appropriate age, your dentist can provide extra degrees of cavity protection for kids. This support comes from dental sealants, which are coated on teeth, and act as a long-term barrier to keep out harmful bacteria.
Quality Preventive Dental Care Also Benefits Parents
Are you focusing enough on your own smile needs? Individuals at any age who want to maintain healthy teeth should plan on taking trips to see their dentist for preventive care. You can rely on your routine visits and professional dental cleanings to keep you safe against troubles. If you do experience a problem, the matter can be dealt with promptly via the appropriate restorative dental procedure. Care provided in your dentist's office includes the placement of a lifelike restoration, so you will not have to worry about how your smile will look when you undergo treatment.
Things To Consider If You Want To Keep Everyone's Teeth Healthy Between Appointments
Brushing, flossing, and dieting remain important for parents and children who want to keep their teeth healthy, even when you all have the support of your regular dental exams. You can take an active role in encouraging smile health by planning meals and snacks that are more nutritious, and have less sugar. You should also check in on kids to make sure they are brushing and flossing effectively, particularly when they just begin taking on these tasks themselves.
Allen Family Dental Can Help You And Your Children Enjoy Quality Oral Health Support
At Allen Family Dental, you can bring your kids in for routine oral health services, and enjoy your own quality care during regular visits. Our practice is excited to help people of all ages in and around Allen, TX preserve their healthy teeth! To arrange your consultation with Dr. Torrens-Parker or Dr. Lizardi, call Allen Family Dental in Allen, TX, today at (469) 342-6644.