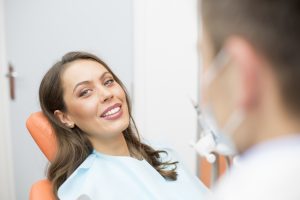 Taking real responsibility for your oral health is important. Hopefully, you understand why a smart oral care routine is so important, and you are doing well to keep up with yours. With that said, you should see your dentist as having an active role in helping you maintain your smile. Your regular dental exams, which include professional teeth cleanings, offer a kind of oral care you are not able to replicate on your own at home. During these visits, your dentist is helping you avoid concerns with tooth decay and gum disease, and identifying any problems that could require restorative dental care.
What Takes Place During A Routine Professional Dental Cleaning
A routine dental cleaning is responsible for removing tartar from your smile. If you keep up with good brushing and flossing habits, you may be capable of completely avoiding tartar accumulation. It should be noted, however, that tartar can form in surprisingly little time, and that skipping regular cleanings because you assume you do not need them can lead to trouble. Your cleaning is a thorough process, and it can lead to information on areas that are being poorly served.
Count On A Thorough Review Of Your Smile During Each Exam
With considerable experience, and access to advanced imaging technology, your dentist is able to give your smile a comprehensive review during every routine appointment. Problems that are identified in their earlier stages can be easier to deal with, and they can be stopped before they create complications that need to be addressed. In the case of cavities, you can have the problem identified and removed while the level of decay affects a relatively small portion of your tooth. After the placement of a dental filling, your needs can be fully met. However, if you are not attending regular exams, and you develop a more advanced cavity, a root canal treatment and a dental crown can be required to fully address the issue.
Doing Your Part At Home To Prevent Oral Health Troubles
What qualifies as "good" oral health care? You should be brushing at least two times every day, and those efforts should be joined by consistent flossing on a daily basis. Your diet choices are also important. If you pay no attention to your sugar intake, you could be doing more damage to teeth than you realize.
Allen Family Dental Can Help You Prevent Smile Trouble
At Allen Family Dental, families in and around Allen, TX area given thorough oral health reviews during every examination! Our practice can provide a careful study of your teeth and gums, and bring any problems that need treatment to your attention before they worsen. To plan your consultation with Dr. Torrens-Parker or Dr. Lizardi, you can call Allen Family Dental in Allen, TX, today at (469) 342-6644.