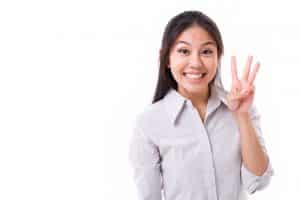 Why do people choose to undergo cosmetic dental work? The reasons can vary, but one thing remains consistent – they know they can count on changes that will have a positive impact on their appearance. Different patients will arrive at a cosmetic consultation with different goals in mind. While some are only concerned with the color of their teeth, others may be alarmed by issues with the shape or condition of certain teeth. Your dentist can listen to what changes you would like to make, and connect you to the kind of treatment that will best provide the results you are interested in.
1. They Are Unhappy With The Results Of Store Bought Whitening Products
Patients who are interested in a professional whitening treatment may seek out this kit because they are disappointed by the results they saw after using a store bought product. With access to professional whitening gels, you can see dynamic improvements.
2. They Want To Address Smile Flaws Created By Dental Damage
Dental damage can alter your smile in unpleasant ways. Porcelain veneers can hide signs of trauma. Dental bonding is also often used to correct a person's appearance after damages are received.
3. They're Excited To Show Off A More Attractive Smile!
It may seem obvious to say that people request cosmetic work simply to improve how they look. That being said, it is worth acknowledging that there is no reason to feel ashamed because you want to show off a more attractive smile. Your smile is one of your most prominent features, and you deserve to feel confident when you show it off. If you have something you would like to change, let your dentist know! When you see how much one treatment can improve your appearance, you can be thrilled with your choice to seek out cosmetic dental care.
Talk To Allen Family Dental About Cosmetic Dental Work
At Allen Family Dental, our office is committed to helping patients enjoy their best smile. In some cases, cosmetic flaws can leave people unhappy – with the right treatment, you can see remarkable improvement to how you look. To set a time to meet with Dr. Torrens-Parker or Dr. Lizardi, call Allen Family Dental in Allen, TX, today at (469) 342-6644. Located in Allen, we also proudly care for patients from Frisco, Plano, McKinney, Fairview, and all surrounding communities.