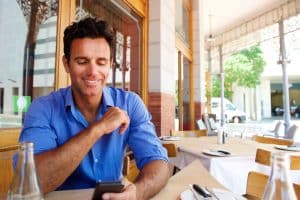 Dental implants enable your dentist to provide you with a stable, long-term answer to tooth loss. The implant serves as a sort of artificial root, which secures the dental prosthetic that you receive. If you qualify for placement, the implant will be surgically placed in your jawbone – the titanium post actually takes the spot that once held your tooth root. After a necessary healing period, you will receive your restoration, which can serve as a life-like substitute for missing teeth. Implants can help patients who need to replace several teeth, as well as those looking for a permanent solution to the loss of a single tooth.
Implants Can Help Support Different Prosthetic Types
Implants are versatile enough to help patients who need a single tooth replacement, and those who need to replace many teeth – even those who need a full arch replaced. A series of implants can be set up to hold a set of dentures, meaning you will not be forced to make do with epoxies or natural suction to hold the prosthetic. Dental crowns and dental bridges can also be anchored to your jaw with dental implants.
Am I Able To Receive Dental Implants?
Dental implants improve your dental function in many ways. They limit the movement of your prosthetic, and even help prevent movement of neighboring teeth (which leads to a reduced risk for additional tooth loss). They also help with jawbone resorption, a common problem for people who have lost teeth. Unfortunately, if that reduction in jawbone density has already occurred, your dentist may grow concerned that your jaw will be unable to handle the implant placement. If this, or any other issue, is determined to be a problem, your dentist can review possible preliminary work to improve your candidacy.
Talk To Allen Family Dental About Dental Implants
Are you ready to do something about a gap – or gaps – in your smile? Scheduling a trip to Allen Family Dental to discuss your prosthetic options can lead to you receiving permanent prosthetic support thanks to the placement of a dental implant (or implants). To set a time to meet with Dr. Torrens-Parker or Dr. Lizardi, call Allen Family Dental in Allen, TX, today at (469) 342-6644. Located in Allen, we also proudly welcome patients from Frisco, Plano, McKinney, Fairview, and all other neighboring communities.