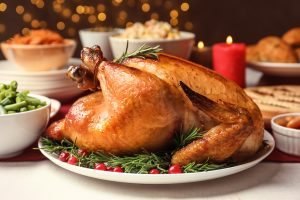 Next week, many of us will celebrating the Thanksgiving holiday! While we may not be attending the usual large family gathering, we will still be indulging in our favorite dishes. However, many of these dishes contain ingredients that cause cavities. In today's blog, your Allen, TX, dentist offers a few tips for protecting teeth from tooth decay.
The Dangers of Sugar and Starch
Bacteria love sugar and starch. These particles tend to cling to the teeth and become stuck between them. As bacteria break them down and consume them, this could create a sticky layer of plaque that coat the teeth. The buildup then causes demineralization, weakening and eroding outer enamel. Cavities, and even dental infections, can then form. The same buildup also irritates and inflames gum tissues, a complication that could lead to periodontal disease for many! However, by making a few healthy choices during reach meal, you can protect your teeth and gums.
Healthy Habits
First, try to limit how many sugary and starchy options you consume, and wash them down with a glass of water to help cleanse your smile. Eating fresh veggies and fruits could also help scrub away plaque and trapped food particles. You can also excuse yourself after your meal to thoroughly floss your teeth!
Remember, even during the holidays you need to practice good oral hygiene. Continue to brush your teeth when you wake up, and once more before bed, for at least two minutes. A fluoride toothpaste is beneficial too! We also recommend flossing before bed as well.
Checkup and Cleanings
A checkup and cleaning is also vital! An exam is a chance to watch your smile for signs of trouble, addressing these concerns before they grow more severe. We also cleanse your smile, a process that completely removes all plaque and tartar from the surfaces of your teeth, an action brushing and flossing alone cannot accomplish. If you schedule one now, you can address any oral health issues before the holidays begin, and also use your 2020 dental insurance benefits and health savings funds before they expire after December 31st!
COVID-19 Concerns
Remember to take steps to protect yourself and others. Avoid large indoor gatherings, wear masks when around others, and wash your hands frequently. These actions are especially vital for your older relatives and those with compromised immune systems. If you have any questions about our treatment options, or if you want to schedule a visit, then contact our team today.
Our Allen, TX Dentist Talks About Preventive Care
Your Allen, TX dentist's office wants you to enjoy your holiday while keeping both yourself, and your smile, safe and healthy! To find out more about the steps needed to keep smiles strong, then please call Allen Family Dental at (469) 342-6644.