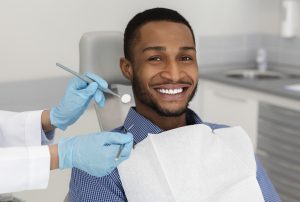 For many people, concerns about the COVID-19 pandemic have meant canceling appointments with the dentist. While we understand and want everyone to be safe, we also know that lack of routine care, and that includes seemingly minor visits like checkups and cleanings, could mean a higher risk of toothaches, bleeding gums, and even tooth loss. In today's blog, your Allen, TX, dentist will explain how we've updated our health and safety measures to ensure you can visit us and enjoy peace of mind!
Before You Visit
When you call to schedule a visit, we will ask a few screening questions about whether you've been sick or experienced common symptoms of COVID-19, such as fever, coughing, and shortness of breath. We will be scheduling fewer visits each day to ensure plenty of time to clean and disinfect the office in between each visit. When you show up for your visit, we will ask these screening questions again, and require everyone to wear a mask!
When You Arrive
When you show up in the parking lot, give our office a call. We will invite you in once the waiting room is clear, which ensures optimal social distancing. We will remove magazines and children's toys, as these are often difficult to disinfect. You will need to wear a mask, and we will take your temperature and have hand sanitizer available to use. Prior to your treatment, we will offer a hydrogen peroxide rinse, and our team will be wearing PPE, including masks, face shields, gloves, and gowns. We will also be thoroughly cleaning surfaces throughout the office several times a day to help keep patients and our team members safe.
The Value of Your Exam and Cleaning
Remember, a checkup and cleaning is a chance for our team to monitor your family's smiles. We watch for the warning signs of trouble, and offer treatment to address issues in the early stages. After all, treating a cavity quickly with a filling prevents harmful infections and lowers the risk of tooth loss! Our team also looks for signs of gum disease, TMJ disorder, bruxism (teeth grinding), and oral cancer. If you have any questions about our new health and safety measures, or if you would like to schedule a visit for you or a member of your family, then please contact our team today.
Our Allen, TX Dentist's Office Is Ready to See You
Your Allen, TX dentist's office wants to help you obtain the care you need while also ensuring you stay safe and healthy while you're here. To find out more about our new health and safety measures, then please call Allen Family Dental at (469) 342-6644. We're ready to help you obtain your healthiest and brightest smile!