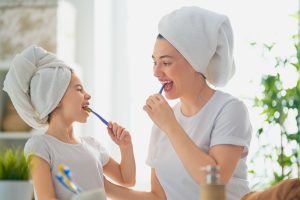 Is everyone in your family enjoying enough protection against tooth decay and gum disease? Parents and kids can have different needs when it comes to what kind of dental treatment experience benefits them. With that said, it is possible for you to find a dental practice that is prepared to help people of all ages maintain healthy teeth. Our Allen, TX dentist's office can make preventive dentistry more convenient by providing you one location for everyone to visit. For kids, we provide important guidance and encouragement in addition to cleanings and exams during pediatric dental checkups. For adults, we can provide ongoing dental care, as well as help with problems like TMD or bruxism, which can occur due to stress, bite problems, or arthritis in your joints.
Access To An All-Ages Dentist Can Make Oral Health Matters Easier To Address
Keeping up with the different obligations of everyone in your family can become tiring. Even at times when your own calendar is full, you need to make sure your kids are making it to all of their important appointments. When you have on dental office for everyone to visit, you can make life easier by scheduling regular and pediatric dental exams, and taking everyone for an appointment at one place and time.
Arranging Preventive Services For Your Kids
Kids can require more support because they are still learning how to do a good job caring for their teeth. As part of our long-term goal of helping kids grow up with healthy smiles, we take time to educate and guide kids on matters related to their dental health. We provide this support in addition to providing dental exams and cleanings, plus additional services to help them stay free of cavities. Those services include placing dental sealants on permanent teeth. When this is done, we can give kids a protective barrier for their teeth that can lower their chances of developing decay.
Keep Up With Your Own Oral Health Care!
Remember that your own smile health is also important! We provide adults with quality preventive services so they are less likely to need restorative dental work. We can also provide support if you deal with any issues like snoring, TMJ disorder, and other dental matters that can impact your quality of life.
Talk To Your Allen, TX Dentist About Scheduling Visits For Everyone In Your Family!
At our Allen, TX dentist's office, we provide dedicated smile support to people of all ages! You can bring your kids to see us, and you can set up your own visits to make sure your teeth are in good condition. There are long-term benefits to preventive dental checkups for kids and adults that you should take advantage of. For more information, call Allen Family Dental in Allen, TX today at (469) 342-6644.