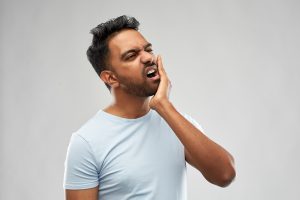 Sometimes, a problem with your smile is not something you can simply ignore or wait to have treated. If you damage, loosen, or lose a tooth after an injury, or if you begin to experience significant tooth pain, you may need to reach out for emergency dentistry. At our Allen, TX dentist's office, patients who find themselves in one of these situations can reach out to us for prompt support. By reacting quickly to a problem, we can put a stop to your discomfort, and start work to fully restore your smile and oral health.
Sudden And Unexpected Oral Health Problem? We Can Help!
Hopefully, you have only had to visit your dentist for routine dental exams and professional dental cleanings. These services, along with smart daily care, can effectively protect you from common threats like tooth decay and gum disease. Unfortunately, a good oral hygiene routine can do little to change a person's luck, and you may wind up with a broken, dislodged, or otherwise badly hurt tooth due to an accident. Your dentist understands that a situation like this can be scary, and possibly overwhelming. By providing emergency dental services, we can help you feel at ease and also make steps to address the matter promptly.
What To Expect From Emergency Care
After arranging urgent care with you, we can bring you in to have the problem with your oral health reviewed and addressed. The type of care you undergo during your appointment will depend on the condition you are in when you arrive. Taking care of your pain and restoring your oral health will be priorities, and your dentist will determine if it is possible to save a damaged tooth. Our ultimate goal will be to save the tooth if possible, and preserve your smile.
Your Urgent Dental Work Can Lead To A Smile Recovery
Our practice takes a modern approach to restorative dental work that can provide lifelike and durable restorations for vulnerable teeth. When taking care of your smile during a dental emergency, we can use this approach to take care of your appearance. With a custom dental crown, we can make sure any tooth that shows signs of trauma can be restored in a way that preserves the way you look. Even if you have a tooth that cannot be saved, we can offer prosthetic dental work that can support your bite function and appearance.
Allen Family Dental Can Help You During A Dental Emergency
At Allen Family Dental, patients who need urgent care can reach out to us for emergency dental services! Through prompt care, we are able to address a problem quickly while focusing on fully restoring your oral health and smile. To find out more, call Allen Family Dental in Allen, TX, today at (469) 342-6644.