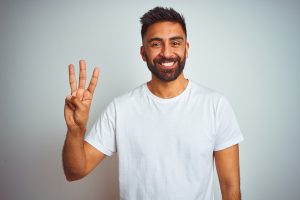 As you start to consider what you want to do with your 2020 resolutions, spare a thought for your smile. If you have struggled with cavity troubles in the recent past, or if you want to keep your teeth and gums free from trouble, positive changes in your oral care routine can be important. At our Allen, TX dentist's office, we can provide you with information on the current condition of your smile, and make recommendations for improvements, when you come in for your next routine dental exam. With relatively small changes to your daily life, you can make sure you have great protection against the different issues that threaten your smile.
1. Make Sure You Floss Every Day
When people feel that flossing is not truly necessary, they leave the spaces between their teeth vulnerable to problems like tooth decay and gum disease. While these areas can be cleaned during a professional teeth cleaning, they should receive attention on a daily basis. Taking the time to floss each day can keep oral bacteria from gathering in tough-to-clean spaces, which has the effect of improving your chances of remaining cavity-free in 2020 and beyond.
2. Cut Back On Your Sugar Intake
How can you effectively reduce your sugar intake? This commitment does not have to result in a drastic overhaul to your normal diet. What you can do instead is keep track of how often you enjoy sugary, sticky products, or sweetened beverages, and make smart reductions. One thing you can do is change how you snack – instead of relying on vending machine treats at work breaks, bring healthy items like vegetables or almonds. Replacing soft drinks with water at meals can reduce your sugar intake, and also protect you against a buildup of teeth stains that can make your smile appear dull.
3. Make Routine Dental Checkups And Cleanings A Priority
Did you see your dentist at least twice in 2019? Unless there is a reason your dentist wants you to attend on a different schedule, you should make semiannual appointments for preventive care. Make sure that in 2020, you stick with this schedule. The cleanings and evaluations provided help people keep their smiles in terrific health. If a problem does form between appointments, it can be caught and treated with a dental filling before it worsens, and the restorative dental work you need becomes more involved.
Allen Family Dental Can Help You Keep Your Smile Healthy In The New Year, And Beyond!
At Allen Family Dental, patients enjoy access to important preventive services every time they come in for care! Our practice can provide you with expert cleanings and reviews to make sure your smile is in the best possible condition. To schedule appointments with Dr. Torrens-Parker or Dr. Lizardi, call Allen Family Dental in Allen, TX, today at (469) 342-6644.