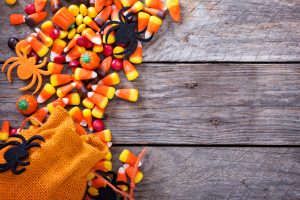 With Halloween less than a week away, your kids may be anxiously awaiting their chance to go trick-or-treating. Even before this annual tradition, the Halloween season can leave families with more access to candy than usual, which can be a problem for everyone's smiles. Because kids often have a hard time restraining themselves, they can wind up with cavities after Halloween. Parents can sometimes find themselves in need of treatment for dental decay for the same reason! At our Allen, TX dental office, we are able to provide important preventive dental care for kids, as well as for adults. We are also prepared to safely and carefully restore teeth damaged by cavities.
Halloween Candy Can Lead To Serious Oral Health Trouble Over Time
Having more access to candy can be a nice treat, but people who overindulge in sugary products can wind up experiencing tooth decay. It can be hard to recognize just how much more sugar you are consuming during this time of year, and your usual approach to daily brushing and flossing may not be enough to protect you from cavities. While better daily oral care habits can be beneficial, remember that if you want to do a better job protecting yourself from dental troubles, exercise moderation with sweets.
Protecting Your Kids' Teeth During The Halloween Season
Parents can be well aware of how much their kids enjoy Halloween candy. It is only natural to want them to have a great holiday experience, but it is still important to limit what they are eating on a typical day. Before trick-or-treating occurs, you should talk to them about why too much candy can be a problem, and establish limits on how much they can have in a single day. This is also a great time to make sure your kids are practicing good habits each day. During pediatric dental appointments, you can count on our team to offer them instructions that help them clean their teeth more effectively.
Tips To Help You Protect Your Smile This Halloween
Remember that your teeth are also vulnerable to decay, and that your candy consumption habits can impact your smile. You should be prepared for temptation in the form of a candy dish at work, or the stash of candy you purchase for trick-or-treaters who visit you. Be conservative about what you eat, and make sure you continue to enjoy a nutritious diet. If you have become inconsistent with dental checkups and oral health cleanings, this can be an especially smart time to return to the dentist's office!
Allen Family Dental Is Ready To Help Allen Families Take Great Care Of Their Teeth!
At Allen Family Dental, patients of all ages can look forward to terrific smile care! We are proud to make routine services available to the Allen, TX community, and we are prepared to help address any oral health issues that affect you. For more information, or to schedule an appointment with Dr. Torrens-Parker or Dr. Lizardi, call Allen Family Dental in Allen, TX, today at (469) 342-6644.