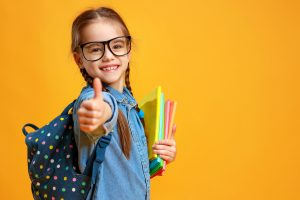 You stock up on school supplies and pick up new outfits in order to help your child start the new school year the right way. Should you consider dental care part of back-to-school preparations? At our Allen, TX dental practice, we deliver quality pediatric dental services for young patients. Before classes begin, we can perform an evaluation to determine if your child's teeth are in good health, and let you know if they need treatment for a dental problem. This can ensure that the beginning of the semester is not interrupted by oral health concerns that take them out of class. Because these visits also help kids learn to take better care of their teeth at home, a checkup can also provide help that keeps your child's teeth in great shape through the school year, and beyond!
Does Your Child Understand The Importance Of Good Oral Care?
Kids have much to learn about life, particularly in their early years. While they can be eager to understand their world, a lack of understanding about dental care can leave them less than ideally prepared to keep their teeth free from problems with cavities. As part of the services we offer to young patients, we can provide helpful tips on better smile care at home, while also informing kids about the importance of keeping up with their oral care.
Important Services Provided During Pediatric Dental Exams
Kids, like adults, can count on quality preventive services during a routine dental exam, and professional dental cleaning. We can also provide additional services to help kids. At the appropriate time, we can recommend dental sealants, which will give them added protection against tooth decay. If your child shows signs of any developmental-related issues with their oral health, we can bring the matter up before it becomes serious, and more difficult to treat.
You Might Be Due For A Dental Checkup, Too
You may not have school to go back to in the fall, but you should still think about the health of your smile! Our practice can welcome you for routine dental services, too. Committing to your oral health care can show your child that you feel that healthy teeth are important. These visits also help you maintain the look of your teeth over the years, which can certainly be good for your confidence.
Talk To Allen Family Dental About Scheduling A Checkup For Your Child
At Allen Family Dental, patients of all ages are encouraged to come in for important oral health care! Our practice is committed to delivering routine dental services that will help you keep your teeth in terrific shape, so you will not have to worry about issues like tooth decay. With that said, we are prepared to help if these issues do arise! To plan your consultation with Dr. Torrens-Parker or Dr. Lizardi, call Allen Family Dental in Allen, TX, today at (469) 342-6644.