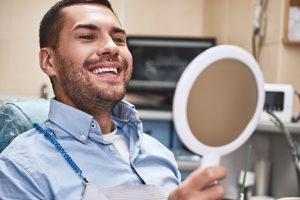 Your best oral health efforts should keep your smile completely free of cavities. Unfortunately, people who are certain that they are doing a great job protecting themselves from oral health issues sometimes discover that they have a problem with tooth decay that requires restorative dental work. At our Allen, TX dental practice, we can help you limit the effect a cavity ultimately has on your tooth by providing thorough routine dental examinations. If a cavity is identified, it can be treated before it has an opportunity to worsen, and start causing painful symptoms. Typically, the process for restoring your oral health will only require a dental filling, and will limit the amount of your tooth structure affected by your troubles.
Your Dentist Can Identify A Recent Cavity Issue During A Dental Exam
A routine visit to our dental practice will include a thorough dental cleaning, as well as an evaluation of your teeth and gums. During that evaluation, problems can be identified, even if they have not caused symptoms that might attract your attention (yet). Even if a cavity is small, once it has formed it will have to be dealt with via restorative dental work. Fortunately, early detection will allow your dentist to stop its growth, and restore your tooth, while the amount of harm to your tooth structure is limited.
Restoring Your Tooth With A Modern Dental Filling
Modern dental fillings are made with a lifelike resin material that can match the appearance of a person's dental enamel. This substance is great for providing protection for a tooth without negatively affecting its appearance. It also provides fantastic support, as it can bond directly with your enamel for an impressive level of support. Fillings only occupy the space where a cavity was removed. This means that all of your surrounding tooth structure can be preserved.
What Will It Take To Restore An Advanced Cavity
Fillings are not always going to be appropriate when it comes to restoring a tooth after a cavity. If too much of your dental material is harmed by decay, a dental crown will be required. Crowns cover more of your tooth, and the require the removal of healthy enamel to make space for them. If a cavity has caused enough damage to expose your pulp to harmful bacteria, a root canal treatment will also be required.
Talk To Allen Family Dental About Scheduling Cavity Treatment
At Allen Family Dental, our practice is prepared to use lifelike dental restorations to address tooth decay. Thanks to the careful evaluations provided during every routine visit, we can recognize a small cavity, and provide your restoration, before it has the opportunity to do more harm to your tooth structure. To arrange an initial consultation with Dr. Torrens-Parker or Dr. Lizardi, call Allen Family Dental in Allen, TX, today at (469) 342-6644.