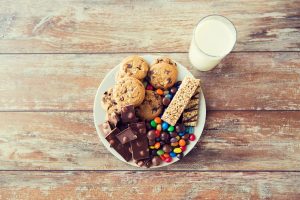 How often do you find yourself eating something sweet? Are you someone with a weakness for desserts? Are you effectively keeping up with the amount of sugar you typically consume? The diet choices people make can play a big part in how likely they are to deal with cavities over time. While the "right" amount of sugar can vary based on the condition of your enamel, and your oral hygiene routine, you should certainly look at your sugar intake as a possible reason for recent cavity troubles. Your Allen, TX dentist's office can talk to you about your oral health practices during a routine dental exam, and advise you on ways to better protect your smile. 
You Need To Pay Attention To Your Diet If You Want To Control Your Cavity Risk
If you want to make sure you are not in need of restorative dental work in the near future, start paying attention to what you are eating and drinking. Simply replacing soft drinks with water at meals, or switching out break room treats for healthy snacks from home, can have a meaningful effect on the condition of your smile. If you have not had any recent issues with tooth decay, it is worth noting that gradual changes over time to your enamel, and fluctuations in your routine, can affect your future risks.
Taking Additional Steps To Keep Your Smile Healthy
If you want to make sure your teeth stay healthy, you need to put a serious effort into keeping them clean each time you brush and floss them. If you are not spending enough time on brushing (at least two minutes), you can leave behind plaque, and allow tartar to form. Tartar deposits resist your daily care efforts – it will take a professional dental cleaning to have these deposits successfully removed.
We Are Ready To Help You If You Need Treatment For Tooth Decay
Our practice can meet with you for routine care, and we can schedule an appointment if you fear something may be wrong with your oral health at the moment. Ongoing care can be important if you want to limit the harm a cavity might do. When a cavity is caught in the course of an exam, treatment with a dental filling can be planned. If you only show up when you have an issue with tooth pain, you may need a root canal to properly manage the matter.
Talk To Allen Family Dental About Protecting Your Smile!
Allen Family Dental is prepared to help individuals keep their teeth in great shape! You can do your part to protect your smile by brushing, flossing, and monitoring your diet choices. With better daily care, and regular professional care, you can preserve a healthy, happy smile! To arrange a consultation with Dr. Torrens-Parker or Dr. Lizardi, call Allen Family Dental in Allen, TX, today at (469) 342-6644.