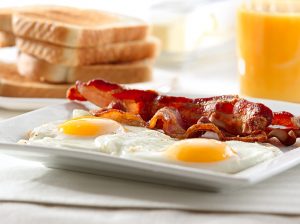 The way you start your day can be important, and not just for how it sets your mood, and prepares you for your daily responsibilities. Your typical morning habits can have a big impact on your overall oral health. In fact, if you want to successfully avoid dental problems, you should pay attention to the ways in which you might be helping or hurting your teeth. Are you taking enough time each morning to thoroughly brush? How is your normal breakfast affecting your oral health? A smart smile routine should combine good daily behaviors with regular dental exams with your Allen, TX dentist.
Are You Taking Enough Time To Clean Your Teeth In The Morning?
The act of brushing is important, but when you do it inconsistently, or you fail to give yourself enough time to be thorough, you can be more at risk for tooth decay and gum disease than you may realize. Every time you brush, you should spend at least two minutes trying to thoroughly clear away harmful agents that can build up in your mouth. These sessions are also impacted by how often you replace your brush – you should switch it out every three to four months, or whenever you feel that the bristles are becoming worn. It is also important to confirm that you are only using ADA-approved toothpaste.
What Is Your Typical Breakfast Doing For Your Smile?
If your normal breakfast packs too much sugar, you could be undermining your larger efforts to keep your smile clean. Many people are too quick to reach for pastries, unhealthy cereals, or doughnuts at the start of their day. Too much sugar can make you more likely to need restorative dental care. You should also remember that your behaviors also affect the look of your teeth. Your morning coffee or tea might help you feel alert, but they can also start to cause unflattering stains that can call for a professional whitening treatment.
Recognizing The Need For Daily And Professional Dental Care
A combination of daily and professional dental care can keep your smile in the best possible shape. In addition to offering dedicated teeth cleanings and evaluations, your dentist can provide you a space to discuss your routine, and look for improvements. When your behaviors at home improve, you are more likely to enjoy good news at each future checkup!
Allen Family Dental Is Ready To Help You Sustain Good Oral Health
Allen Family Dental is proud to deliver important smile care to residents of all ages in and around Allen, TX! If you have an interest in your oral health, make sure you are practicing smart care at home, and make sure you are attending routine dental exams. To plan your appointment with Dr. Torrens-Parker or Dr. Lizardi, call Allen Family Dental in Allen, TX, today at (469) 342-6644.