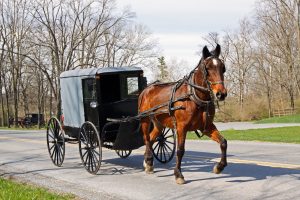 Starting on the evening of Friday, December 14, visitors to Watters Creek will have opportunities to enjoy FREE rides on a horse-drawn carriage! To help everyone feel the holiday spirit, carriage rides will be available on the weekends leading up to Christmas. After taking care of your shopping, you can take a ride with that special someone, or make it a family event. How are you making the most of your holiday season? While this time of year can be great for seeing friends and family, the abundance of Christmas treats can make trouble for your smile. Your Allen, TX dentist's office is ready to help you deal with any dental troubles you experience, and we are ready to meet you for a regular dental exam.
When:
The carriage rides will start on the evening of Friday, December 14. They will also occur on December 15, and December 21-23.
Where:
People interested in taking a ride will meet at the DSW at Watters Creek.
Cost:
This ride is available at no cost, meaning you and your family can take a ride for FREE after a day full of shopping.
Activities Include:
Watters Creek will have horse-drawn carriage rides for visitors looking to enjoy a little Christmas magic this month!
For More Information:
For more information about this event, click here.
Schedule Dental Care At Allen Family Dental!
At Allen Family Dental, the community of Allen can look forward to receiving expert care during every appointment! Our practice offers a range of services to help you maintain your oral health, or address any issues that you might have. To plan your consultation with Dr. Torrens-Parker or Dr. Lizardi, call Allen Family Dental in Allen, TX, today at (469) 342-6644. Located in Allen, we are also proud to welcome families from Frisco, Plano, McKinney, Fairview, and all other nearby communities.