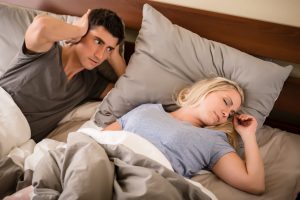 Even though Christmas is almost here, a family with a member who snores will be unlikely to enjoy many silent nights. If you or your partner has an issue with snoring, it can be an embarrassing problem, and one that interferes with the other's ability to sleep peacefully. Fortunately, your Allen, TX dentist is ready to help you address an ongoing snoring problem. By providing you with a custom snore guard, your dentist can give you what you need to breathe peacefully, and quietly, while you are at rest. In some cases, this appliance is an effective measure for countering mild to moderate issues with obstructive sleep apnea.
Using A Special Appliance To Address Problems That Cause Snoring
The snore guard your dentist provides you with is made to fit you specifically, meaning it can be surprisingly comfortable once in place. Worn at night, the guard helps you breathe softly because it keeps your breathing passages unobstructed. By preventing any partial obstruction of your airways by soft tissues, your appliance will also help if these blockages are causing you to wake at night, and interfere with your sleep cycle.
You Might Be Surprised At How Much Your Dentist Can Do To Improve Your Quality Of Life
When you go in for a routine dental appointment, are you expecting anything more than help with cavities? What patients sometimes fail to realize is that your dentist is ready to address many different issues that could be hurting your quality of life. If your daily life is being impacted in a negative way by daily neck pains, jaw stiffness, or headaches, your dentist can help. These are all symptoms of TMD, which can be corrected with proper support from your dentist.
Talk To Allen Family Dental About Addressing A Snoring Problem
Allen Family Dental is ready to work with patients who are frustrated and embarrassed by their tendency to snore. To help with the problem, you can receive a special, custom-made snore guard that allows you to sleep softly once again. To plan your consultation with Dr. Torrens-Parker or Dr. Lizardi, call Allen Family Dental in Allen, TX, today at (469) 342-6644. Located in Allen, we also proudly work with patients who visit us from Frisco, Plano, McKinney, Fairview, and all surrounding communities.