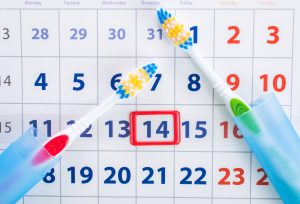 Are you seeing your dentist often enough to really benefit from preventive dental care? At each appointment, you receive valuable support in the form of a thorough teeth cleaning, and an advanced review of your smile. While these individual visits certainly help, you should make a point to schedule regular appointments. One issue is that without recurring visits, a problem that develops can go unnoticed until you are experiencing uncomfortable symptoms. By the time you schedule a visit, you could require more involved work, like a root canal treatment, to restore a tooth. When you make time regularly to see your dentist, problems can be identified at earlier stages.
Understanding The Benefits Of A Routine Appointment
Each preventive appointment you attend can involve a through cleaning your teeth, and a careful review of them. Both of these actions can help you avoid cavities and gum disease. During your professional teeth cleaning, you can count on the removal of plaque and tartar – while plaque can be removed through brushing and flossing, tartar removal requires professional care. Your ongoing reviews with your dentist inform you about the state of your teeth, and alert you to possible problems. When you infrequently see your dentist, your smile's health can worsen over time, so you fail to enjoy the full advantages of preventive treatment.
So If I See My Dentist Regularly, I Don't Have Anything To Worry About?
There are real advantages to attending regular checkups based on your dentist's recommended schedule. With that said, you still need to keep up with good oral care habits. If you aren't brushing and flossing regularly, or if you consume too much sugar on average, you can still find yourself dealing with cavities.
Talk To Allen Family Dental About Scheduling Your Next Dental Appointment
At Allen Family Dental, patients who come in for routine visits can enjoy care that helps them stay on top of their smile needs. At each appointment, you can count on the treatment you receive to help keep you informed about the state of your smile, and to protect you against plaque and tartar buildups. To schedule a meeting with Dr. Torrens-Parker or Dr. Lizardi, call Allen Family Dental in Allen, TX, today at (469) 342-6644. Located in Allen, we also welcome patients from Frisco, Plano, McKinney, Fairview, and all surrounding communities.